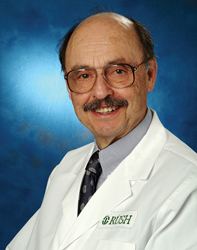 "OREF was privileged to work with Dr. Galante in his roles as honored mentor, former board trustee and past board president."
Rosemont, IL (PRWEB) June 30, 2017
The Orthopaedic Research and Education Foundation (OREF), the leading organization funding orthopaedic research across all subspecialties, announced today it has received a gift of $1 million from the estate of longtime supporter and former board trustee and president, Jorge O. Galante, MD. The gift is one of the largest single contributions in the history of the foundation.
OREF Board President, David G. Lewallen, MD, reinforced that Dr. Galante's contribution to orthopaedics went far beyond his support of the Foundation. "Jorge was a gifted surgeon and a visionary in the field of orthopaedics. In addition to the excellent care he provided to thousands of patients throughout his career, he was passionate about advancing the science of total joint replacement. He pioneered the application of cementless implant fixation and developed, in collaboration with other investigators, multiple hip and knee prostheses. His contributions to the field of orthopaedics and the success of OREF cannot be overstated."
Dr. Lewallen added, "OREF was privileged to work with Dr. Galante in his roles as honored mentor, former board trustee and past board president. He and his wife, Sofija, were generous supporters of the Foundation over the years. From his impact on the lives, careers and skills of his trainees and colleagues, to the patients he cared for and those who owe their improved quality of life to his ingenuity, to his volunteer work with the OREF, he was truly a grand mentor and leader. We look forward to celebrating his life and his commitment to orthopedic science for years to come. Through major grants in his honor, we will work to fulfill his dream of furthering research and expertise in joint replacement through investigations of new surgical techniques, devices, joint implant designs and materials, and the biology of joint disease and repair."
The gift is an affirmation of the late Dr. Galante's commitment to the work of the Foundation in promoting and advancing the field of orthopaedics through its research grant programs. Along with contributions to the OREF Jorge O. Galante, MD Mentor Campaign, Dr. Galante's gift will support research in total joint replacement, the topic area chosen by Dr. Galante for his campaign. For more information about this campaign, please visit http://www.oref.org/galante.
"The OREF and my father are inextricably tied," stated Charles Galante. "His life's work and ultimate goal was to improve lives through the elimination of musculoskeletal pain and the restoration of function and mobility. His partnership with the OREF over the decades was clearly a key factor in the orthopaedic advancements in which he played a part, together with many others. On behalf of the Galante family, I am proud and delighted to honor my father's wishes with this gift to support OREF's research vision into the future."
About OREF
The Orthopaedic Research and Education Foundation is a charitable 501(c)(3) organization committed to improving lives by supporting excellence in orthopaedic research. OREF is dedicated to being the leader in supporting research that improves function, eliminates pain and restores mobility, and is the premier orthopaedic organization funding research across all subspecialties. A list of research and funding priorities is available at oref.org/grants or follow @oreftoday on Twitter.