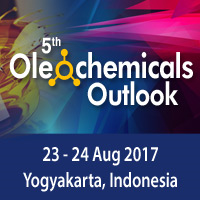 The annual gathering of oleochemical industry returns to the hub of palm oil and oleochem value chain – Indonesia
Yogyakarta, Indonesia (PRWEB) July 05, 2017
The annual gathering of oleochemical industry returns to the hub of palm oil and oleochem value chain – Indonesia, that aims to increase palm oil exports this year – with 1.5 million tons expected from the oleochemical industry. But will current world economic factors impact the oleochem trade patterns in the region? PT Bank CIMB Niaga shares his views via a key session on 'Global Economic Outlook' with details of US economic forecast under the new administration as well as China & India's economic reforms and its impact on Asia. LMC International will provide an analysis of 'Global Oleochemicals Market Trends' highlighting current demand/supply forecast across Asia, US, Latin America and Europe.
Emery Oleochemicals will unveil their sustainability plans along the lines of digital tractability and big data via paper 'Evidencing Impact On Sustainability Agenda' while Wilmar International gives details on 'Oleochemistry and Derivatives in the Lubricants Market and various other Markets' pinpointing uses of natural oils, oleochemicals, esters in lubricants as well as the drivers, legislation and trends in bio-degradable lubricants. Brand owner Johnson & Johnson is sharing its perspective on 'Sustainable & Strategic Sourcing Strategy' – especially the evolving trends in the consumer goods industry and CavinKare details India's Personal Care Industry Trends & Opportunities.
In view of Indonesia's 20% biodiesel blending (B20) policy to non-subsidized diesel fuel starting late last year, the summit has Indonesian Association of Biofuel Producers (APROBI) outlining details of the country's 'Biodiesel Industry Development & Challenges'.
Organized by Centre for Management Technology (CMT), other key sessions at summit include:

KPMG Services – Asia's Palm Oil Market Outlook & Trends
Olam International – Africa's Palm Oil & Derivatives Growth Trends
HBI – China's Glycerine Market Trends & Directions
Leaf Resources – Development of Biochemical Production Via Glyerol/Biomass
Inventa Technologies – Integrated R&D in Oleochemicals – From Bench to Industrial Scale
HanCole – Philippines Coco-Oleo Industry Prospects
Buss ChemTech – Choosing a Technology Provider For a Successful Oleochemical Plant
Asia surfactants market trends and more!
For more details about the event, visit 5th Oleochemicals Outlook or contact Ms. Grace oh at +65 6346 9147.