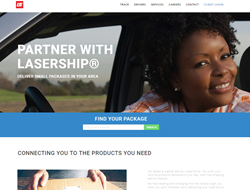 Our new website is designed to enhance the consumer experience.
VIENNA, VA (PRWEB) June 30, 2017
LaserShip, a last-mile delivery company servicing the Eastern U.S. and parts of the Midwest, announced the launch of its new website, http://www.lasership.com, on June 30, 2017.
The newly designed website is mobile-friendly and more user-friendly, and will give consumers the opportunity to make customer service inquiries through a chat option. The new tracking results page will allow consumers to subscribe to receive package tracking updates. The chat and tracking notification features are expected to launch later this summer.
"Our new website is designed to enhance the consumer experience. As our e-commerce shippers continue growing, we want to stay ahead of the curve," said Josh Dinneen, senior vice president at LaserShip. "Data shows that the trend in last-mile delivery is that consumers care about the speed of information and flexibility in delivery. Our new website was designed to meet that demand and provide for even greater flexibility as we continue executing on our consumer experience strategy."
LaserShip's last website redesign was done in 2012 using a content management system. The new version of the website was built by LaserShip's in-house IT team, allowing for greater flexibility, control and security.
About LaserShip, Inc.:
Founded in 1986, LaserShip is a parcel carrier facilitating last-mile delivery to the Eastern and Midwest U.S. for shippers that desire reduced transit times and increased flexibility within their supply chain. LaserShip has evolved into a leading provider of same-day and next-day delivery services for premier e-commerce and product-supply businesses. For more information, visit lasership.com.