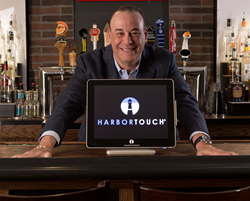 In my experience, I have found Harbortouch's POS solution to be the best in the industry - Bar Rescue Host Jon Taffer
Allentown, PA (PRWEB) June 30, 2017
Harbortouch, a leading national provider of point-of-sale (POS) systems and merchant services, will be featured on the new episodes of Spike TV's number one hit show "Bar Rescue" which kick off on July 2nd. Harbortouch will be the exclusive POS system provider for all remaining episodes this season, which air weekly on Sundays at 10:00 PM ET/PT.
"Bar Rescue" features veteran nightlife expert Jon Taffer as he seeks to revamp and rescue bars on the brink. Taffer and his dream team of industry experts understand the science behind a bar's success and spare no details in their rescues; tackling everything from the perfect pour, to the height of the bar stools.
Taffer recently endorsed Harbortouch as his recommended POS system for the restaurant and bar industries. He also announced a collaboration with Harbortouch to develop the industry's first "smart" POS (sPOS) system. The partnership will enable Harbortouch to integrate powerful revenue generating tools, based on Taffer's extensive industry experience, into the company's Elite POS systems.
Harbortouch's sPOS systems will bring together technology and industry expertise in a way that has never been done before. Harbortouch POS systems deliver countless benefits in terms of improved efficiency and streamlined operations, and now these benefits will be combined with integrated tools, including powerful analytics and customer promotions, that will have a direct impact on top-line sales by increasing both customer frequency and spend per visit.
"POS systems are the backbone of any business, but their major benefits have always been about efficiency," says Taffer. "In my experience, I have found Harbortouch's POS solution to be the best in the industry. Their POS system is unparalleled in terms of both price and capabilities, the two elements most critical to any small or mid-sized businesses' success. I am proud to integrate my proven tools for increasing revenue with their best-in-class system and bring the first truly smart POS system to market."
Taffer is recognized internationally as an award-winning hospitality consultant and concept developer. With over three decades of hands-on experience, he has owned and operated 17 hospitality businesses and consulted with over 800 venues in 30 countries. His expertise has earned him many awards (such as Operator of the Year, Property of the Year, Visionary Leadership and the United Kingdom's Pub Master), as well as executive positions with the Nightclub and Bar Convention and the National Restaurant Association, where he's currently a Strategic Advisor.
Harbortouch is a pioneer of the POS-as-a-Service business model, offering a revolutionary free equipment program that delivers best-in-class POS systems with no up-front costs, including state-of-the-art hardware, premium software, custom programming, professional installation, onsite training and 24/7 support. Founded in 1999, the company has served more than 360,000 merchants and currently processes in excess of $13 billion annually. A six-time Inc. 500/5000 honoree, Harbortouch has been widely recognized for its innovative and disruptive POS and payment solutions.