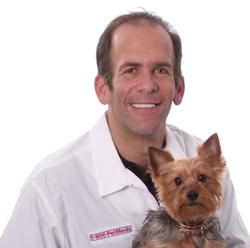 "it's important for us as veterinarians to re-educate clients away from the need to only see the veterinarian just for shots when that time comes, and to stress the importance of an annual or semiannual physical exam in older pets."
Delray Beach, Florida (PRWEB) June 30, 2017
Vet visits can be stressful for pets and pet parents. This is especially true if pets are only taken for medical attention at times of a health crisis. Regular veterinary wellness exams may seem like an avoidable expense, but the benefits are actually two-fold.
Emotionally, it is better for your pet to see the vet regularly to build recognition and comfortability. This way, your pet has a chance to develop a positive association with the veterinarian and clinic staff while in a more relaxed state of mind, instead of just during times of distress.
Regular vet visits may also be money-saving in the long run. Diseases and disorders that are caught early during routine veterinary visits may save thousands of dollars in the long run. In fact, they may even extend your pet's longevity and prevent suffering that undetected, untreated diseases may bring.
As Dr. Dym explains, "it's important for us as veterinarians to re-educate clients away from the need to only see the veterinarian just for shots when that time comes, and to stress the importance of an annual or semiannual physical exam in older pets."
Today more than ever, pets are regarded as members of the family. Like any other family member, caring for them is a top priority. However, during tough financial times, preventative health care may seem like an expense that can be put at the bottom of the list of household priorities. This is a short-term decision can have unfortunate long-term consequences.
To help ease the financial burden of regular vet visits, many pet parents are choosing pet insurance plans to help reduce costs. It is estimated that by having pet insurance, it's possible to save up to 45% annually on veterinary expenses. This may help pet parents keep those regularly scheduled veterinary appointments, resulting in healthier pets.
Read "Common client questions: How often should my pet visit the vet?" to learn more about the importance of preventative veterinary health care and how often pets should visit the vet. Access expert veterinary advice with the 1-800-PetMeds® "Ask the Vet" feature, and learn more about pet health care with the wide array of pet health articles and videos available free in the Education section at 1800PetMeds.com and in the 1-800-PetMeds® mobile app.
About 1-800-PetMeds®
Founded in 1996, 1-800-PetMeds® is America's Largest Pet Pharmacy® and Vet-VIPPS accredited, delivering prescription and non-prescription medications, and pet supplies for less, direct to the consumer through its 1-800-PetMeds® toll-free number, on the Internet through its website 1-800-PetMeds.com, or with the 1-800-PetMeds® mobile app available at Google Play for Android and the App Store for iOS.