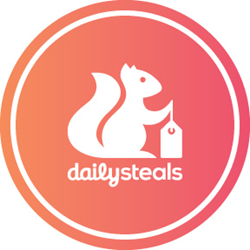 "We wanted to create a place where the community has a voice on the type of products that we source, opposed to getting lost scrolling through 40 million products," says Ishai Reinfeld, CEO of Daily Steals
Miami, FL (PRWEB) June 29, 2017
While there's no shortage of e-commerce websites promoting daily deals and deep discounts, Miami-based company, Daily Steals, is taking a different approach by offering deals with a purpose. Unlike other websites that dictate what customers should buy, Daily Steals puts the spotlight on its customers, offering the community the chance to express exactly what they want to buy. Instead of clicking through pages of unwanted products, the team listens to the community and then carefully curates highly desirable products such as brand-name electronics from cellphones and laptops to drones, apparel, beauty products, home essentials and toys.
Daily Steals is run by a group of seven, tech-savvy millennials from South Florida and New York, who like most millennials, are always on the hunt for high-quality electronics at a great price. The group considers themselves the "ultimate" bargain hunters, who truly believe that customers are a crucial part of the decision-making team. "We wanted to create a place where the community has a voice on the type of products that we source, opposed to getting lost scrolling through 40 million products," says Ishai Reinfeld, CEO of Daily Steals, which engages its customers by continually surveying them in-person and online. "We listen to the community, which allows us to make calculated purchases, and then pass on deep discounts to the customer. Our website also offers a simple, easy shopping experience. You see the good stuff, click a few buttons and buy the desired products."
The community-oriented company is also taking another innovative approach to deal-sharing by offering "crowdsourced discounts," which means the more people that buy a featured product, the more shoppers ultimately save. The new Crowdsourced Discounts Campaign will launch a new round of deals on July 3, 2017, showcasing new limited-time deals on smartwatches and smartphones including a Samsung Galaxy S7 Edge, Apple Watch, and Samsung Gear Fit, selected by the community. During each crowdsourced discount sale, the featured item(s) will be available on the site for three to five days, and the community will pledge to buy the product, then place it on hold at the initial price, and as more people pledge to buy the product, the price goes down. No one is charged until the sale ends. Everyone, including the initial customers, will pay the final lower price. "We want the community to physically tell their friends about the crowdsourced deal, as well as share it on social media," says Reinfeld. "The more people who get involved, the more everyone benefits."
Daily Steals offers more than just feel-good deals, the company is also focused on doing good in the community. Their socially-innovative "Steal with a Feel" program will allow the online community to nominate a different non-profit each month, and the non-profit that gets the most votes, will receive five-percent of Daily Steals' profits.
For more information, please visit http://www.dailysteals.com.
About Daily Steals:
Daily Steals is a Miami-based e-commerce site which offers daily deals and deep discounts on sought-after items like electronics, apparel, beauty products and home items. For more information, visit dailysteals.com. Find out about the latest deals on Daily Steals on Facebook, Instagram or Twitter.