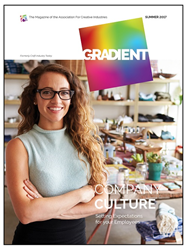 "It was important for us to create a publication that is both professional and welcoming; one that puts engaging and relevant information at our Members' fingertips." - Mark Hill, President & Chief Executive Officer, AFCI
Elmwood Park, NJ (PRWEB) June 29, 2017
The Association For Creative Industries (AFCI) reveals it has rebranded its premier trade publication as Gradient. Formerly known as Craft Industry Today, Gradient has a new look that reflects the personality of the Association's new brand, which was unveiled earlier this year. AFCI worked with Verse Group, its strategic research and creative branding partner, on the project. With the new name, Gradient will continue to provide thought-provoking content and emerging trends in each issue.
"Gradient speaks to the upward trajectory and constant evolution of our creative industries – something we aim to propel in everything we do," said Mark Hill, President & Chief Executive Officer, AFCI. "It was important for us to create a publication that is both professional and welcoming; one that puts engaging and relevant information at our Members' fingertips."
"When approaching the Gradient rebrand, we saw it as an opportunity to expand the reach of the new AFCI brand, and really connect with Members," said Cristiano Andreotti, Partner at Verse Group. "We wanted to build an engaging experience throughout the magazine, and for Members to find inspiration on every page."
The Association chose the name because the color gradient is an important aspect of the AFCI logo; the name also represents AFCI's global and diverse membership.
Elements of the redesign include a crisp modern look, a streamlined layout, and an improved platform where AFCI Members can learn, connect and discover their membership value and how to foster business success.
Gradient is published for AFCI Members in print and online on a quarterly basis. The first issue of Gradient was published in June and the digital edition is available to AFCI members at http://www.afci.global.
Questions and article submissions may be directed to Keri Cunningham, Senior Director of Marketing and Research, at marketing@afci.global or (201) 835-1229.
ABOUT THE ASSOCIATION FOR CREATIVE INDUSTRIES
The Association For Creative Industries (AFCI) is the premier trade association for the global creative arts products industries. AFCI strives to deliver innovative high value services as we support our Members who provide products and services to educate, entertain, and inspire creative consumers. Our Members include the manufacturers, retailers, distributors, designers, educators, digital content providers, professional makers and DIYers, and other creative professionals that comprise the $40 billion+ creative arts industries around the globe. For more information about AFCI, membership, or its annual Creativation trade event, visit http://www.afci.global.