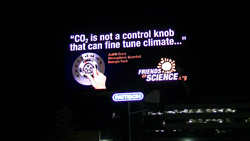 #LEAP Manifesto advocates should be held to the same standard of accountability on climate change science, and on the technical feasibility of their proposals as the corporate system they critique
Calgary, Alberta, Canada (PRWEB) June 30, 2017
#LEAP Manifesto advocates should be held to the same standard of accountability on climate change science, and on the technical feasibility of their proposals as the corporate system they critique, says Friends of Science, responding to an article in the National Observer of June 27, 2017 on Naomi Klein and her new book "No is Not Enough."
In the National Observer article, Naomi Klein, co-author of #LEAP, claims people should push Prime Minister Trudeau to stick to climate change policies; indeed the #LEAP Manifesto calls for complete stoppage of fossil fuel use and infrastructure. Friends of Science says that's irresponsible as society would completely collapse within days, as explained by scientist Blair King in his blog Aug. 3, 2016, "A Thought Experiment about a World without Fossil Fuels."
The #LEAP Manifesto claims fossil fuels are subsidized in Canada – Friends of Science report "Keep Canada in the Black" shows that Canada's entire economy is underwritten by oil and gas production and export.
Friends of Science developed the #Look Manifesto as in #LookB4ULeap to counter the dangerous ideology over evidence found in #LEAP. LINK: lookb4uleap.tumblr.com/
#LEAPers like Klein push for renewables; David Suzuki is a LEAP signatory. Friends of Science is critical of David Suzuki Fund's lack of due diligence on renewable claims.
However, as Robert Lyman writes in a blog post of Jun 28, 2017, this is an "Alice in Ontarioland" exercise as shown in Ontario.
Ontario P. Engineers in a 2015 report and power point called "Ontario's Electricity Dilemma" showed that CO2 emissions would rise with more wind and solar, and that power prices had skyrocketed.
In Sept. 2015, Friends of Science did a technical review of the #LEAP Manifesto's 100% renewable wind-hydro grid proposal and found it was technically infeasible, would cost hundreds of billions of dollars and would put Canada at risk of national blackouts.
A 2014 US Senate Minority report on the "Club of Billionaires" reported on page 57 and 58 that Ms. Klein's projects were funded by "The New York-based Sustainable Markets Foundation (SMF) is another significant fiscal sponsor which unlike Tides, Inc., it is a relatively unknown quantity. SMF only exists on paper and has zero public presence…" LINK: leftexposed.org/wp-content/uploads/2016/01/2014-Senate-Billionaire-Club-Report.pdf
Friends of Science Society presents the evidence over the ideology on climate science, economics and policy and represents the interests of ordinary citizens.
Additional Resources:
Several recent reports and peer-reviewed papers show that wind and solar are costly and ineffective in producing reliable, affordable, or sustainable power. These include:
Burden of Proof: A comprehensive review of the feasibility of 100% renewable-electricity systems Heard et al (2017)
LINK: sciencedirect.com/science/article/pii/S1364032117304495
Lessons Learned from Technology, Kelly (2016)
LINK: cambridge.org/core/journals/mrs-energy-and-sustainability/article/lessons-from-technology-development-for-energy-and-sustainability/2D40F35844FEFEC37FDC62499DDBD4DC/core-reader
Development And Integration Of Renewable Energy: Lessons Learned From Germany
LINK: acadeuro.b.uib.no/files/2014/11/PoserH-etal-Finadvice_lessons_learned_from_germany.pdf
About
Friends of Science has spent over fourteen years reviewing a broad spectrum of literature on climate change and have concluded the sun is the main driver of climate change, not carbon dioxide (CO2). Friends of Science is made up of a growing group of earth, atmospheric and solar scientists, engineers, and citizens.
Friends of Science Society
P.O. Box 23167, Mission P.O.
Calgary, Alberta
Canada T2S 3B1
Toll-free Telephone: 1-888-789-9597
Web: friendsofscience.org
E-mail: contact(at)friendsofscience(dot)org
Web: climatechange101.ca