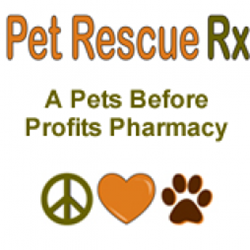 Pet Rescue Rx donates ALL profits to animal shelters and rescues selected by their customers. Save money and help save pets. It's a win-win.
Akron. New York (PRWEB) July 11, 2017
PetRescueRx.com: Online Pet Pharmacy Donates 100% of Profits to Help Homeless Pets is now verified as a safe and legitimate pharmacy by the National Association of Boards of Pharmacy.
Pet Rescue Rx has applied for and been awarded by the National Association of Boards of Pharmacy (NABP) the safe.pharmacy domain registration which verifies the pharmacy as safe and legitimate for your purchases. This is the highest level of certification awarded by the NABP for online pharmacies and replaces the Vet VIPPS certification which has been discontinued.
Legitimate online pharmacies and pharmacy-related websites need a way to stand out against the overwhelming number of rogue internet drug outlets. The .pharmacy domain is an easy way to show consumers and search engines that a website is verified and safe!
Buying medicine online is as easy as looking for ".pharmacy" in a website address/URL. Unlike seals of approval posted on websites, the .pharmacy domain is part of a website's address and cannot be faked.
Today, the vast majority of websites selling prescription drugs online are doing so illegally — many of them sell dangerous, unapproved, substandard, and counterfeit medicine. NABP has reviewed close to 11,500 internet drug outlets selling prescription medications and found 96% to be out of compliance with United States pharmacy laws and practice standards that protect the public health.
The National Association of Boards of Pharmacy® (NABP®), the impartial professional organization that supports the state boards of pharmacy in protecting public health, is spearheading the .pharmacy initiative. To ensure the program operates in a manner consistent with international laws and standards, a global coalition of pharmacy community stakeholders provides guidance to the .Pharmacy Verified Websites Program. In addition, the program:
Establishes partnerships with regulators in each jurisdiction where the .pharmacy domain names are available, and maintains the highest program standards through participation in global forums to gather input from international pharmacy community stakeholders.
Americans love their pets, spending in excess of $60 billion dollars in 2015 to care and provide for them. Meanwhile, animal shelters and rescue groups often struggle to provide for the 6-8 million homeless pets in their care. 3-4 million homeless animals die each year in shelters while the pet pharmaceutical industry is estimated to be worth more than $8 billion annually. PetRescueRx.com is on a mission to reverse those shelter numbers by providing the funding needed to do so.
People have options today on where they purchase their pets medications. Many large retailers are now selling pet medications and making huge profits. Pet Rescue Rx believes these profits should be going to the homeless pets which need care until they can be adopted into loving homes. Pet Rescue Rx donates all profits to shelters and rescues selected by their customers. Over $60,000 has been donated since they opened their doors in June, 2013. That is the mission of Pet Rescue Rx.
Started by Glenn Buckley, DVM and a vision that he could create a business to fund the cause close to his heart. With the launch of PetRescueRx.com, pet owners and consumers can now purchase pet medications and supplies online to care for their pets – and also provide needed funds to help homeless animals. It's a new breed of business that puts Pets Before Profits. Glenn founded PetRescueRx.com for the sole purpose of providing a revenue stream to support non-profit animal welfare organizations.
"As a veterinarian, I am able to help one pet at a time," Glenn said. "With PetRescueRx.pharmacy, we're able to provide a business that allows pet owners to provide direct funding support to the local animal shelters or rescues of their choice while purchasing needed pet medications and pet supplies. Being awarded the "safe.pharmacy" certification by the NABP is a great accomplishment for us. Our customers can know we have achieved the highest standard for providing medications for their pet family members."
PetRescueRx.com is the nation's only online pet pharmacy that donates 100% of the profits to support animal shelters and rescue non-profit groups. Launched in June 2013, PetRescueRx.com is located in Akron, New York and is licensed in 32 states and growing. With over 500 animal shelters and rescues registered to benefit any 501(c)3 organization can sign up by visiting their website http://www.PetRescueRx.com. Founder of Pet Rescue Rx is Glenn Buckley, DVM, a native of Akron, NY, and graduate of Louisiana State University School of Veterinary Medicine. Dr Buckley has been practicing veterinary emergency medicine for the past 20 years. He is now focused on Pet Rescue Rx and the benefit to homeless pets it can provide. Dr. Buckley can be reached for interviews and media inquiries at 1-855-307-7940 or GBuckley(at)PetRescueRx(dot)com.
Pet Rescue Rx Contact and Links:
Phone: 1-855-307-7940 (M-F 8am - 5pm, Sat 9:30am - 12pm EST)
CustomerService(at)PetRescueRx(dot)com
Website: http://www.PetRescueRx.com
Facebook Page: http://www.facebook.com/PetRescueRx
Twitter: https://twitter.com/PetRescueRx
Google+ : https://plus.google.com/116949588712439718174/posts
Pinterest: http://www.pinterest.com/petrescuerx