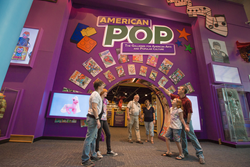 Characters and stories provide a wonderful means for families to engage with each other and discuss how the stories are the same and how they may have changed over time.
Indianapolis, IN (PRWEB) July 04, 2017
Michael Jackson's "Thriller" album sold about 66 million copies worldwide. The finale of "M*A*S*H" drew 125 million viewers. Super Hero comic books have dominated the shelves for decades. Hot Wheels cars are one of the most popular toys ever – with over four billion produced since the first was cast in 1968.
What do these things have in common? They were all big news makers that defined pop culture back in the day. Many of them continue to shape trends today. Visitors are discovering how these objects shape the trends in our lives and how they influence us at The Children's Museum of Indianapolis' newest permanent exhibit, The Galleries for American Arts & Popular Culture.
Popular culture influences almost every aspect of our everyday lives. Toys, books, performing arts, TV, music, and clothes are all ingredients that help create individual personalities.
The world's largest children's museum is taking a peek into the past to see how it might influence our future in the brand new Galleries for American Arts and Popular Culture, featuring a permanent exhibit—American POP—and a temporary exhibit—DANCE! It opened June 17, 2017.
The permanent exhibit —American POP is divided into four categories:

Toys and Games: Consumers demand toys that can be personalized to reflect their interests and personalities. Objects that help tell a family's story could include homemade Barbie clothes, "adoptable" Cabbage Patch dolls, and Build-a-Bear stuffed animals.
TV, Film, and Music: Some shows, songs, and movies remain popular across generations. Examples of stories that have survived the test of time include The Wizard of Oz, holiday TV specials, or the Star Trek television series or Star Wars movie props, the gold ticket from the original Willy Wonka and the Chocolate Factory, gold records from the Beatles, Elvis, Jimi Hendrix, and even Lady Gaga's shoes.
Fashion and Textiles: Fashion trends can be a reflection of cultural values, technology, or events of the time. Poodle skirts to miniskirts, leggings and cowboy boots are just a few examples of how styles have changed and in some cases returned over time.
Comics, Art, and Literature: How do we use popular culture?
Families also surround themselves with products, merchandise, and reading material that reflects their personality and sense of identity or values. How do lunchboxes, backpacks, or cellphone covers define someone's personality? The museum has more than 14,000 comic books in its Max Simon Collection.
"Batman, Barbie, Hot Wheels, LEGOs, and Star Wars are multi-generational characters and stories shared by grandparents, parents and their children. Because these characters and stories are 'evergreen,' they provide a wonderful means for families to engage with each other and discuss how the stories are the same and how they may have changed over time," said Dr. Jeffrey H. Patchen, president and CEO, The Children's Museum of Indianapolis..
Pop culture items and themes transcend time—they are reborn from one generation to the next. American POP offers a digital interactive look at film and TV story lines that will let you predict (and check) the endings. Inside the exhibit, you will also:

See comics from the Max Simon Comic Book Collection
Put yourself in a digital comic book scene
Explore toys and memorabilia from the museum's newly acquired Batman collection
Discover how superheroes like Wonder Woman have changed with the times
Design your own fashions
Compare songs of different styles and eras
Predict movie plots
See iconic outfits worn by music stars or in popular films
Try-on the fads of another generation
And more!
DANCE! is a separate temporary exhibit that just opened alongside The Galleries for American Arts & Popular Culture. There, families learn many different types of dance moves as well as how those dances tell a story, express emotions, and build relationships. Extraordinary costumes from famous dancers on TV or in the movies and objects that exemplify the hard work that goes into dance rehearsal are on display.
Some of the dances through the decades that will be featured include:

The Charleston (20s-30s)
Swing (40s)
Twist (50s-60s)
Hustle (70s)
Macarena (80s-90s)
Chicken Noodle Soup (2000s to present)
The Galleries for American Arts and Popular Culture are made possible through lead gift support from Lilly Endowment Inc., Mel and Bren Simon, Allen Whitehill Clowes Charitable Foundation, Inc., Gerald and Dorit Paul, Thelma L. "T" Wilds, Sharon W. Doiron, and Shirley S. Bryant.
DANCE! is presented by Subway and Supported by Koorsen Fire & Security and Indianapolis Indians.
About The Children's Museum of Indianapolis
The Children's Museum of Indianapolis is a nonprofit institution committed to creating extraordinary family learning experiences across the arts, sciences, and humanities that have the power to transform the lives of children and families. For more information about the tourist attraction and museum, please visit http://www.childrensmuseum.org, follow us on Twitter @TCMIndy, Facebook.com/childrensmuseum and YouTube.com/IndyTCM.