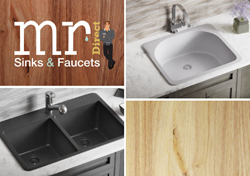 Whether it's a topmount, undermount, or dualmount sink; custom-fitted cutting boards and grids are now available.
Toledo, OH (PRWEB) July 12, 2017
MR Direct is proud to début several accessories to their TruGranite line of composite sinks. Whether it's a topmount, undermount, or dualmount sink; custom-fitted cutting boards and grids are now available. Additionally, strainers and flanges are now being sold in all six TruGranite sink colors.
MR Direct stainless steel sinks have had custom-sized cutting boards available for quite some time. The TruGranite collection, however, was introduced without this option – until now. MR Direct cutting boards are sold in a choice of two beautiful hardwoods. Even more important, both are naturally resistant to moisture, mold, and fungus. Each board fits snugly over its basin with a groove along the perimeter to channel any runoff. They are lightweight, easy to handle, and save valuable countertop space.
The light-color Natural board is made of rubberwood from the latex-producing tree of the same name, but it is not at all pliable as its name might suggest. It has a light complexion, similar to pine, and a grain similar to white oak. Being a natural hardwood, it makes a very durable cutting surface.
The dark-colored Sapele board is made of wood from the sapele tree; a cousin to mahogany, with whom it shares many properties. Sapele has a finer texture than mahogany and is slightly darker in appearance; but it too is a strong hardwood making it a logical and beautiful choice as a cutting board.
Natural and Sapele cutting boards can be purchased individually, in matching pairs, or mixed.
Grids, manufactured by MR Direct, protect the sink surface from abuse, and can provide a food preparation area in the basin. Because the grid sits slightly higher than the bottom of the sink, remnant water is not able to contaminate any food resting on it. Each grid is made of durable stainless steel, has removable rubber feet, is dishwater safe; and is custom-made to fit each TruGranite basin.
Color strainers are now available in all six tones of the TruGranite line: beige, black, mocha, slate, silver, and white. They are easy to assemble and exclusively designed to match TruGranite sinks. Opting for a color-coordinated strainer enhances the appearance of the sink as it prevents food waste from falling into the plumbing below.
When a garbage disposal is attached, flanges can also be installed in a choice of all six TruGranite colors. This accessory becomes the visible portion of the drain system below as it rests over the disposal. When necessary, the stopper can be positioned to prevent unwanted food or water from going down the drain.
To review the full line of TruGranite sinks and accessories, simply visit http://www.MRDirectint.com.