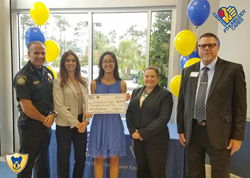 As our members' watchdog, we are dedicated to protecting those we serve in all aspects of their financial lives.
Melbourne, FL (PRWEB) July 05, 2017
Space Coast Credit Union has announced Eliza Budanio as the $2,003 grand prize winner of its "ThumbuddyCares: Don't Text and Drive" scholarship contest.
A prize ceremony was held in Budanio's honor at the credit union's Port Orange branch and attended by her family, SCCU leadership, and members of the Port Orange Police Department. The recent Spruce Creek High School graduate was also presented with a Challenge Coin by Chief of Police, Thomas Grimaldi, during the ceremony.
SCCU ran the contest from January 1 through March 30, inviting high school seniors living within its field of membership to submit an essay or video educating other teens about the dangers of distracted driving. The top five finalists were revealed in reverse order on the credit union's SCCU Members' Watchdog Facebook page, and the four runner-ups were each presented with a $100 gift card for their efforts.
The final scholarship amount was determined by SCCU's year-long ThumbuddyCares campaign, which aimed to leverage the power and sharing capabilities of social media to spread awareness of the dangers of texting while driving. The credit union donated one dollar to the scholarship fund each time their #ThumbuddyCares message was shared using a special social media sharing app created for the promotion.
Participation only required one to upload a photo to the app and share it via social media. A special picture frame illustrating the credit union's message was placed on top of the photo after uploading, and users could then choose to post it to their Facebook or Twitter accounts to show followers and friends they were taking a stand against distracted driving. Participants were also given the option to download their photo, allowing them to share it on other social media platforms like Instagram if they wished.
"As a leading auto lender in the many of the areas we serve, we felt it was important for SCCU to help shed light on this epidemic and involve local students in advocating safer driving habits," said Kimberly Tyree, Director of Retail Services for Volusia and Flagler County. "As our members' watchdog, we are dedicated to protecting those we serve in all aspects of their financial lives. Through this campaign, we were able to generate awareness of the dangers of texting while driving and extend that protection to behind the wheel as well."
About SCCU
Space Coast Credit Union was chartered in 1951 and is headquartered in Melbourne, Florida. The credit union serves more than 375,000 members with assets of over $3.9 billion through a network of 58 branches and over 100 ATMs located along the state's east coast. Membership is open to anyone who lives or works in the fourteen counties SCCU operates. Locations can be found at https://www.sccu.com/Locations.