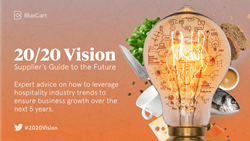 As foodservice operations evolve, so too must the equipment culinary professionals use. It's not enough for equipment to heat or keep food cold. It must contribute to the overall customer experience. -Joe Carbonara, Editorial Director of FES Magazine
Mountain View, California (PRWEB) July 06, 2017
After debuting their premier restaurant eBook, The Restaurant Stack, which partnered with the restaurant industry's top food tech innovators to provide valuable solutions to restaurateurs, BlueCart is launching their second eBook; 20/20 Vision: Supplier's Guide to the Future.
BlueCart, in tandem with nearly a dozen industry experts, released 20/20 Vision, a full hospitality industry report on what trends are hitting the market and how suppliers can leverage each one. The eBook includes detailed insight for a wide spectrum of the industry, including seafood, produce, coffee, wine, dinnerware, meat, and more - and provides readers with actionable steps for achieving immediate growth over the next 5 years.
"Automation of manual processes is bound to provide efficiencies in the future. However, the core of the hospitality industry is providing service. The most valuable service will always include emotion and personal care provided through the relationship between two human beings, and this is the true heart of customer service."
-Matthew Stephens, Vice President of eHotelier
Inside 20/20 Vision readers can expect a wide range of topics from labor automation and transformative technology to the considerable impact Millennials are having on the industry.
"As foodservice operations evolve, so too must the equipment culinary professionals use. It's not enough for equipment to heat or keep food cold. It must contribute to the overall customer experience, help operators get the most effective and efficient use of space and labor and much more."
-Joe Carbonara, Editorial Director of FES Magazine
About 20/20 Vision: Released by BlueCart in July of 2017, 20/20 Vision: Supplier's Guide to the Future is an online eBook for suppliers, distributors, and wholesalers in the hospitality industry who are looking to successfully leverage upcoming trends to grow their business over the next 5 years. For their 2017 supplier eBook BlueCart partnered with:
Seafood News
Milling & Baking News
Cheers Magazine
Food & Beverage Magazine
Fresh Cup Magazine
TableTop Journal
Cheese Reporter
Foodservice Equipment & Supplies Magazine
eHotelier
North American Meat Institute
Square Roots
You can download your free copy of 20/20 Vision at bluecart.com/2020vision.html
About BlueCart: BlueCart's SaaS product launched in 2014 offering a mobile platform to the restaurant and hospitality sector for the purposes of modernizing and improving the wholesale procurement process between buyers and suppliers. BlueCart is Venture Capital funded and has offices in Washington DC, New York, San Francisco, and Chicago with over 29,000 businesses on its platform.