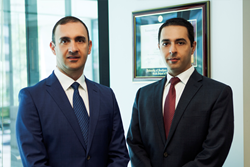 Los Angeles, CA (PRWEB) July 05, 2017
The Margarian Law Firm, a Los Angeles-based, full-service law firm is inviting visitors to explore its freshly-redesigned law firm website (http://margarianlaw.com/). The new website has been redesigned to offer the ultimate user-friendly experience with enhanced navigation and functionality while allowing customers to see the full list of legal services The Margarian Law Firm offers.
The new website places the firm's legal services in the spotlight and provides consumers with a cleaner and more attractive design, a more custom and engaging experience with improved search and user-friendly navigation. It features an up-to-date top-notch content and provides the capability to find and read information about each legal area of practice separately.
Crafted with the user experience firmly in mind, the firm's marketing team ensured that the new website design uses the latest technology compatible with modern day web browsers and mobile gadgets. The website is possible to view on smartphones, tablets and other mobile devices without losing its functionality and ease of navigation.
The Margarian Law Firm senior attorney Armen Margarian noted that with this improved design, they are expecting to get more website visitors. "We are currently working on boosting both the desktop and mobile speed of our website to help it endure a higher web traffic volume."
To showcase its attorneys, the firm used graphics to accompany each short biography. The illustrations are intended to make the website friendlier and warmer and thus visually more attractive. Additionally, website visitors can learn more about the firm's upcoming events, community news, the Margarian Scholarship and much more by reading the blog.
"We established The Law Offices of Hovanes Margarian in 2006 as a Los-Angeles-based law firm dealing mainly with Automotive Fraud and California Lemon Law Cases. Now that our firm has grown into a full-service law firm with more than a dozen of high caliber experienced attorneys, we felt the need to create a beautiful website to show our potential customers who we are today," Hovanes Margarian, the founder and the lead attorney of the Margarian Law Firm said.