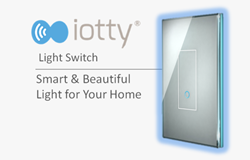 For Homeowners who want to increase the resell value of their home by adding smart technology, the Iotty switch is the only gadget that delivers a wow factor because of what it does and how it looks
Bologna, Italy (PRWEB) July 05, 2017
In a fast-growing industry valued at almost 30 billion dollars, there are tons of high-tech gadgets on the market that promise to make homes "smarter", but few, if any, add to the aesthetic value of a home.The Iotty Smart Light Switch may be the first smart gadget featuring a design as impressive as its technology.
"For Homeowners who want to increase the resell value of their home by adding smart technology, the Iotty switch is the only gadget that delivers a wow factor because of what it does and how it looks," said Edoardo Cesari, co-founder of IOTTY SRL, a product design and manufacturing company based in the Northern Italy. "Italy is known worldwide as a leader in fashion and design. Today, we're leveraging the expertise to make smart homes beautiful."
Compared with the bulky, plastic, beige-colored light switch in most homes, the Iotty switch is a revolution in design. Its sleek, futuristic faceplate is made of tempered glass. It's about the same size as a traditional switch but is completely flat, and it's backlit with a soft glow of light that activates whenever the lights in the room it's in are off. That's when the Iotty serves as a nightlight for smart home owners fumbling in the dark to turn on the lights. It's touch-sensitive so it operates like a normal light switch but it also has motion detection with configuration to turn automatically just by walking in the room.
While the Iotty is currently available in just black or white models, by this fall, it will be sold in five more subdued colors (grey, tan, blue, red, and green). "A lot of people are thinking, it's a light switch, big whoop, but this is the cleanest most futuristic light switch design I've ever seen," said Danny Winget, with Ultimate Smart Home Tech Review.
Inside the Iotty is some impressive Wi-Fi enabled technology. Smart homeowners can manage all the lights in their home through a smartphone app a thousand miles away.
Compatible with Apple HomeKit, Amazon Echo, SmartThings, NEST, and IFTTT, users can turn on multiple lights manually, or, because of GPS tracking, have their lights set to turn on automatically when their smart phone is within a certain distance of their home. This feature ensures that you'll never have to come home to a dark house again. The lights can also be activated to automatically turn on certain lights in the home when the sun sets and turn them off when the sun rises. Unlike other smart home technology, there is no need for a central hub to control the lights. Iotty can also be programmed to work with other devices. Want to turn off garage light and close the garage door.
iotty Light Switch is now Live on Indiegogo, got funded and running to hit stretch goals to make the switch even more awesome than it's now.
Join our new Social Media communities:
https://www.facebook.com/IottySmartHome/
Media contact information:
John
Email: john@onyxxo.com
Tel: (829) 629-9148.