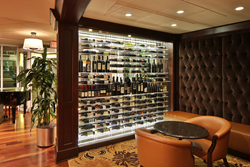 "We definitely have seen an increase in wine sales," states Jennifer Mortazavi, restaurant manager.
Greenville, South Carolina (PRWEB) July 10, 2017
A two sided glass enclosed wine display separates the reception lobby area from the waiting lounge of Halls' Chophouse and creates a visually aesthetic wall of wine for patrons to view various wine options and bottles sizes. "We definitely have seen an increase in wine sales," states Jennifer Mortazavi, restaurant manager. "I think actually seeing the bottles, recognizing the labels and having a visual of what we have to offer helps to create awareness and entice our diners into their wine selections for the evening."
One of the design objectives of the wine room is to showcase the different bottle sizes available including half bottles, standard 750s, magnum (1.5L) and double magnum (3L). "Having the option of a half bottle is a great alternative to 2 glasses and for large parties, big bottles are fun!" says Bill Hall, owner of Hall Management Group. Another design element was to create privacy in the waiting lounge while maintaining a visual element through the wine wall. This was achieved by having glass walls front and back and incorporating a customized Kessick Elevate wine storage system that incorporates clear acrylic wine cradles supported by stainless steel rods and illuminated with LED display lighting.
The up-fit to Halls' Greenville location was completed by Mitchell Contract Interiors, managed by Brandon Saltmarsh. The wine room design was a collaboration of Amy Emory Interior Design and Robert Bass of Kessick Wine Storage Systems.
Halls Chophouse is a family-owned and operated by Halls Management group with restaurants in Greenville and Charleston, South Carolina.
Kessick Wine Storage Systems are designers and manufacturers of wine storage and wine display systems for the hospitality market. Our scope of work includes restaurants, hotel bars, wine lockers, wineries and more. Kessick Elevate is a proprietary contemporary wine display system.