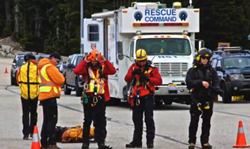 "We don't have time to feel pain. We are constantly looking for a solution, and Wiivv gives us that solution." --Scott Campbell, NSR Training Officer
Vancouver, BC (PRWEB) July 06, 2017
Wiivv Wearables Inc., a Vancouver and San Diego-based consumer technology company that creates custom-fit footwear products through its award-winning app, has launched an Employee Wellness program for workers on their feet, following a successful pilot program with the Pacific Northwest's renowned North Shore Rescue team.
As a commitment from the company's record-breaking Kickstarter campaign (for their Custom Fit Sandal, the most-funded 3D-printed product ever), Wiivv recently donated 40 pairs of Custom Fit Insoles to the volunteer members of the North Shore Rescue (NSR) team. In extreme mountain and canyon conditions, this team of over 40 skilled volunteers routinely assists police, ambulance and fire services, the RCMP, the BC Provincial Emergency Program and the State of Washington in over 130 search and rescue operations per year, as well as during civil emergencies.
"On an average call, we can spend anywhere from one hour to three days on our feet. We are constantly on the go in some of the toughest conditions, including ice-covered rocks, wet and muddy slopes, and hanging from helicopters on a longline. We stay on the job until it's done, which means we rely on our feet to keep us going the entire time," says NSR Training Officer Scott Campbell. "We don't have time to feel pain. We are constantly looking for a solution, and Wiivv gives us that solution."
North Shore Rescue is part of Wiivv's launch of a North America-wide Employee Wellness Program for healthcare, hospitality, first responders and other industries that have a high potential for foot, leg and back pain and injury from repetitive use and single incidents. Companies and organizations can now offer Wiivv Insoles to their employees as part of their corporate wellness offering.
Designed to support the body's biomechanics from the foot up the kinetic chain to the lower back, Wiivv Custom Fit 3D Printed Insoles have been designed to relieve foot pain, foot fatigue, joint discomfort and plantar fasciitis. In industries where people work on their feet, pain-free team members are likely to be more productive, with less absenteeism due to pain and injury.
"We wear the best quality boots while we're on a call, however, since we are working in such extreme conditions, it really takes a toll on our bodies. Wiivv Insoles really help cushion our feet from the constant pounding they take. Personally, I've noticed that my knees don't hurt as much and my lower back pain from a reoccurring injury is starting to subside," says Campbell.
Wiivv's award-winning foot capture app for iOS and Android is behind the Insoles' revolutionary customization. Using over 200 data points on each foot captured by the Wiivv app and any smartphone camera, Wiivv's revolutionary technology allows computer algorithms to pinpoint the unique length, width and arch height of each person's unique feet, creating Insoles with an accurate, customized fit.
Says Shamil Hargovan, Wiivv's CEO and co-founder: "We're committed to supporting first responders and other workers--from baristas and construction workers to doctors and nurses--who have to perform in environments where the they're on their feet all day and the demands on their bodies and health are high. We're thrilled with the positive feedback we receive from employers and workers about how Wivvs help improve their day-to-day performance while reducing injuries and time off due to pain."
ABOUT WIIVV
Wiivv is a leading consumer technology company that creates custom, 3D-printed wearables using body-perfect capture technology, accessible by everyone with a smartphone. Founded in the summer of 2014 by two Forbes' 30 Under 30 honorees, Wiivv is using the best in computer vision, mechatronics and biomechanics to promote body alignment and enhance athletic performance starting with its Custom Fit 3D Printed Insoles and now Custom Fit Sandals.
Wiivv's team is comprised of industry leaders in 3D printing and wearable technologies from companies including Apple®, Microsoft®, HP®, Google®, Nike® and Land Rover®. Wiivv is headquartered in Vancouver, Canada with a research, development and manufacturing facility in San Diego, California.
Media Contact
Bre Hamilton
Wiivv Wearables Inc.
bre [at] wiivv [dot] com
1.604.787.5167