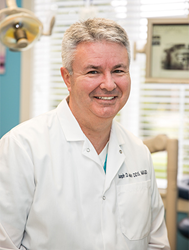 Cortland, Ohio (PRWEB) July 05, 2017
New patients with sleep apnea in Cortland, OH, and the surrounding Warren and Youngstown area, can now receive treatment from Dr. Joseph Bedich, with or without a referral. Patients who regularly experience morning headaches, snoring or chronic fatigue are encouraged to schedule a sleep apnea consultation and find out what treatment options are ideal for them.
Dr. Bedich is educating patients on common sleep apnea symptoms that often go unnoticed. The most obvious sleep apnea symptoms, such as snoring and gasping for air, typically occur during sleep. For this reason, sleep apnea sufferers can go for years without knowing they have the condition. However, chronic lack of sleep can cause daytime symptoms as well, including morning headaches, daytime fatigue and unexplained irritability. Those who think they may have sleep apnea in Cortland, OH, are strongly encouraged to meet with Dr. Bedich for treatment.
If sleep apnea is left untreated, it can lead to a variety of health consequences, including an increased risk of high blood pressure and a greater chance of accidents due to excessive daytime sleepiness. Chronic lack of sleep is also known to have a negative effect on the immune system and can cause affected individuals to become ill more frequently. Thankfully, Dr. Bedich is highly experienced in offering a variety of treatment options to give sleep apnea suffers relief. One of the more well-known treatments he offers is the continuous positive air pressure (CPAP) mask, which increases air pressure in the throat and prevents the airway from collapsing during sleep. Dr. Bedich also offers special oral appliances that comfortably and quietly prevent airway blockages and may be a better treatment choice for those who find the CPAP mask to be uncomfortable.
Patients with chronic snoring, morning headaches and other common symptoms of sleep apnea in Cortland, OH, and surrounding areas, are encouraged to meet with Dr. Bedich for a consultation. Appointments can be arranged by calling Dr. Bedich's team at The Center for Progressive Dentistry at 330-615-1598.
About the Doctor
Dr. Joseph D. Bedich is a general dentist in Cortland, OH offering personalized dental care to patients. Dr. Bedich understands the importance of learning the most cutting-edge techniques, which is why he has taken over 2,000 hours of continuing education in a wide variety of services including sedation, implant dentistry, sleep apnea, cosmetic dentistry and head and neck pain management. To learn more about Dr. Bedich or the services he offers, visit his website at http://www.adazzlingsmile.com or call his office at 330-615-1598 to schedule an appointment.