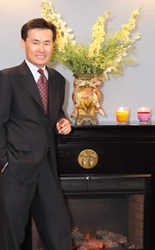 Walnut, CA (PRWEB) July 06, 2017
Patients who are experiencing inflamed, bleeding gums in Walnut, CA, can now turn to Dr. Jin Y. Kim for laser dentistry treatment at his leading-edge practice in Diamond Bar or Garden Grove, CA, with or without a referral. Bleeding gums are a telltale sign of gum disease, a serious condition that can lead to systemic health problems when left untreated. Dr. Kim recommends that all of his qualifying patients undergo the LANAP® protocol to target the bacteria causing the infection and reclaim their oral health.
Although the first stage gum disease presents with relatively mild symptoms, including inflamed and bleeding gums, it is a serious infection that can lead to overall health issues. The condition starts when bacteria begin to infect the gums. If left untreated, infected gum tissue can act as an entry point for bacteria to enter the bloodstream and spread throughout the body. Widespread inflammation and life-threatening conditions like stroke, heart disease and diabetes may ensue if left untreated.
To combat these possible systemic effects, Dr. Kim frequently recommends the LANAP protocol using a state-of-the-art dental laser. This laser treatment specifically targets the bacteria causing the infection and removes the diseased gum tissue, leaving healthy tissues unharmed. At the end of the treatment, Dr. Kim uses the laser to seal the area against infection and invite reattachment of the gums to the teeth. This is all done in a minimally invasive, virtually pain-free visit.
Dr. Kim is an authority in periodontology and frequently speaks on the latest advancements in his field to specialists around the world. He has been invited to speak at professional conferences in over 36 countries so far, and has spoken in Egypt, Korea, and in Mexico this year alone. Patients with bleeding gums in Walnut, CA, who wish to take advantage of his expertise, and combat their gum disease using the LANAP protocol, are invited to contact Dr. Kim's office by calling or visiting his website http://www.drjinkim.com to schedule an appointment.
About the Doctor
Dr. Jin Y. Kim is a periodontist dedicated to providing personalized dental care in Diamond Bar and Garden Grove, CA. Dr. Kim attended the University of Sydney Faculty of Dentistry before furthering his education with an advanced degree in pathology from the Medical School of the same University. Dr. Kim completed a periodontics and implant surgery residency at UCLA School of Dentistry. A uniquely dual board-certified specialist, Dr. Kim was board-certified by the American Board of Periodontology and the American Board of Oral Implantology/Implant Dentistry. The International Congress of Oral Implantologists and the American Academy of Implant Dentistry both gave him the title of Fellow. He was also inducted to be a Fellow of the prestigious American College of Dentists. Dr. Kim enjoys lecturing at UCLA School of Dentistry as well as national and international academic and clinical associations and universities including the International Association of Dental Research, American Academy of Periodontology, and Academy of Osseointegration. To learn more about Dr. Jin Kim and the services he offers, visit his website at http://www.drjinkim.com or call 909-860-9222 for the Diamond Bar location or 714-898-8757 for the West Garden Grove location to schedule an appointment.