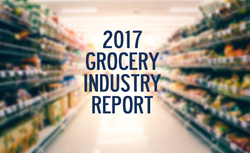 Millennials, Generation X, and Baby Boomers all shop online for groceries at roughly the same rate, somewhere between 21% and 26%
San Diego, CA (PRWEB) July 06, 2017
TrendSorces 2017 Grocery Industry Report shows, despite popular opinions to the contrary, millennials, according to the study, do not disproportionately grocery shop online relative to other generations: Millennials, Generation X, and Baby Boomers all shop online for groceries at roughly the same rate, somewhere between 21% and 26%. Though analysts and industry experts often blame millennials for the present and future decline of brick-and-mortar grocery, TrendSource's data suggests this simplistic approach ignores adoption in older generations.
The report also considers not just who is shopping online but how they are going about doing it. Among survey respondents 54% use the search bar as a primary or secondary means to locate items, and 47% use their order history to repeat previous orders. While this seems like common sense, it sheds light on an under-reported fact of online grocery shopping: it severely limits browsing. Within brick-and-mortar stores shoppers must move from aisle to aisle, item to item, allowing grocers to tactically deploy impulse items, similar products, and attention-grabbing displays throughout the store. The same is not true online where grocers can't force shoppers to browse.
One way for grocers to potentially cut through the noise online then could be through promotions on featured items and sales. Almost half of online shoppers (48%) indicated that they peruse featured items/sales items as a primary or secondary means of online shopping, while only 18% said the same about product recommendations. Of course, sales are just recommendations at a friendlier price point, but survey respondents obviously know the difference.
The full report also touches on an array of other topics including a breakdown of four shopper archetypes—bulk bin shoppers, ethnic aisle shoppers, meal kit users, and vegetarians—and gets to the heart of some truly complex questions such as how do different generations uniquely approach online grocery shopping, what does in-store customer service mean in today's grocery market place, and what is the real reason Amazon made a move on Whole Foods? For answers to these and other questions, download the full report.