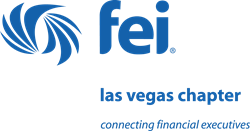 FEI's first CFO of the Year Awards recognized peer-nominated financial professionals demonstrating exemplary leadership within their organizations and communities.
Las Vegas, N.V. (PRWEB) July 06, 2017
Financial Executives International Las Vegas Chapter—the local affiliate of Financial Executives International, the association of choice for CFOs and other senior-level finance executives—today announced that five area financial professionals were awarded the organization's highest honors.
The 2017 CFO of the Year Awards marked FEI Las Vegas' first formal recognition program for individuals who have made a major impact within their company, have achieved success in the company's growth and profitability, and have shown exemplary leadership skills throughout their career. A distinguished selection committee reviewed several criteria for each nominee: leadership, team development, responsibility, planning and budgeting, control and reporting, social responsibility, and innovation. All candidates were peer nominated.
Nominees and winners were celebrated during a ceremony held at the Silverton Hotel and Casino's Veil Pavilion on Thursday, June 22. Dana Wagner of Wake Up with the Wagners emceed the event attended by several hundred industry professionals.
--2017 CFO OF THE YEAR--
Lisa Manning, CFO, Opportunity Village
FEI Las Vegas honored Ms. Manning as the first CFO of the Year. Opportunity Village is a not-for-profit organization serving adults in the southern Nevada community with intellectual and related disabilities. The organization is dedicated to helping people become the very best they can be through vocational training, community employment, day services and more. Beyond her exceptional leadership and professional achievements in her executive role, Ms. Manning demonstrated an unwavering dedication to and passion for the organization's mission.
 
Runners up for the award included:

Paul Soth, CFO, Companion Animal Practices, North America
Kim Forbes-Daniels, Market CFO, Universal Health Services
Ms. Sandra Beaver, CFO, North America Gaming of IGT
--FINANCIAL EXECUTIVE OF THE YEAR INDUSTRY WINNERS--
Additional awards were presented to exemplary professionals in the following industries:
Construction/Real Estate Industry: Scott Seegmiller, CFO, WestCorp Management Group and Nevada West Development 
Gaming/Hospitality Industry: Walter Bogumil, CFO, Affinity Gaming 
Manufacturing/Technology Industry: Randy Taylor, CFO, Everi 
Services/Other Industry: Paul Huether, CFO, GoWireless
"Las Vegas businesses and organizations are led by many of the most talented professionals in their fields—our financial executives being no exception," said Gary Vecchiarelli, President, Las Vegas Chapter. "The individuals recognized during the FEI CFO Awards program are joined by many other professionals who, day in and day out, perform their jobs to the highest of standards. We commend each person for conducting such a critical role with integrity while serving as role models for the next generation of financial leaders."
FEI Las Vegas would like to acknowledge and thank the following companies for sponsoring the event: FCI & Design, Helix Vodka, Intelligent Technical Solutions, KPMG, Umpqua Bank and the Silverton Hotel & Casino.
About FEI
Financial Executives International (FEI) is the leading advocate for the views of corporate financial management. Its more than 10,000 members hold policy-making positions as chief financial officers, treasurers and controllers at companies from every major industry. FEI enhances member professional development through peer networking, career management services, conferences, research and publications. Members participate in the activities of 74 chapters in the U.S. and a chapter in Japan. FEI is located in Morristown, NJ, and Washington, D.C. Visit http://www.financialexecutives.org for more information.
Media Contacts:
Heather Ailara
Crimson Communicates
(845) 424.6341
heather(at)crimsoncom(dot)com
Lili DeVita
Financial Executives International
(973) 765-1021
ldevita(at)financialexecutives(dot)org