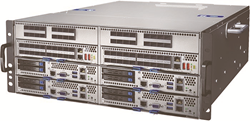 ADLINK's OCCERA platform efficiently integrates network I/O, switching and computing power and the open architecture gives network security solution providers a powerful hardware platform to work with
San Jose, CA (PRWEB) July 11, 2017
July 11, 2017 – ADLINK Technology, a global provider of leading edge computing solutions that drive data-to-decision applications across industries, today introduced the CSA-7400 high-performance, high-throughput, and high-density 4U carrier-grade network appliance for highly available, mission-critical network security applications, including deep packet inspection (DPI), intrusion detection and prevention systems (IDS/IPS), distributed denial-of-service attack (DDoS), and Next Generation Firewall (NGFW). The CSA-7400 is intended for use in banking, enterprise, government and e-commerce markets.
The ADLINK CSA-7400 consists of four dual Intel® Xeon® processor E5 compute nodes supporting independent systems, interconnected by dual-redundant switch modules. The CSA-7400's hot-swappable compute and switch modules ensure uninterrupted service delivery and offer total 1.2TTb/s bandwidth. This network appliance is ideally suited for building next-generation, high-performance firewalls and virtualized telecom elements to meet high availability requirements (99.9999%).
Cybersecurity Ventures, a leading researcher and publisher covering the global cyber economy, recently provided its top 15 statistics for 2017, including an estimate on potential cybercrime global damages of US$6 trillion annually by 2021. Being able to withstand unexpected attacks and network overflow will be critical to private businesses and government institutions alike.
Yong Lo, general manager of ADLINK's Networking, Communication and Public Business Unit states "With over ten years in telecom and networking OEM/ODM experience, ADLINK has accumulated extensive industrial know-how from our valued tier-one customers and continues to develop carrier-grade platforms which differentiate themselves from other products currently on the marketThe CSA-7400 is based on ADLINK's Open Compute Edge Reference Architecture, or OCCERA, which includes the OCP-ACCEPTED™ OpenSled specification and offers high-level performance, throughput, density and availability. We are happy to be co-working with industry leaders to spec-in high-end applications built with OCCERA."
"ADLINK's OCCERA platform efficiently integrates network I/O, switching and computing power and the open architecture gives network security solution providers a powerful hardware platform to work with," said Dr Yang Chuan-An, chief architect of NSFOCUS, a leading provider of enterprise-level network security solutions and services. "OCCERA platforms feature expansion capabilities that allow NSFOCUS to build scalable high-end carrier-grade network security solutions. With the CSA-7400's rich I/O options, NSFOCUS is able to build solutions that support cross-industry deployment, reducing the overall hardware costs. In addition to hardware, ADLINK also includes middleware such as PacketManager with API libraries that speed up system validation, allowing security vendors to focus on their core competence and shorten time-to-market. We believe continued cooperation with ADLINK will help us to provide even more advanced and creative solutions in the future," concluded Dr Yang.
For more information about ADLINK's OCCERA platform, please download our whitepaper that shows how this flexible, modular, open computing Architecture enables on-demand resource allocation.
Features of the CSA-7400 include:

4U high-density platform with four dual Intel® Xeon® Processor E5 v3/v4 nodes
Dual switch modules provide 2x 50G internal Ethernet links to each compute node
Support for hardware based acceleration for processing NVGRE and VXLAN, assisting the construction of large layer 2 networks in the cloud
Support for the IPMI 2.0 specification, web-based intelligent system management, and SOL on compute nodes
Dual redundant power supply units providing active power management on compute nodes and flexible power limit polices
Support for PacketManager software to provide data plane software stacks for dynamic layer 3 and flow-based forwarding, accelerating development of customer applications
Support for hardware acceleration for Open vSwitch and OpenFlow protocol processing, accelerating SDN services
For more information about high-performance, high-density computing platforms, please visit the CSA-7400 product page on ADLINK's website
.
ABOUT ADLINK
ADLINK Technology is leading edge computing with solutions that drive data-to-decision applications across industries. ADLINK offers a variety of building blocks and both generic and market-specific Industrial Internet of Things (IIoT) platforms to serve the automation, communications, medical, transportation, and defense/government verticals.
ADLINK is a Premier Member of the Intel® Internet of Things Solutions Alliance and is active in several standards organizations and interoperability initiatives, including PCI Industrial Computer Manufacturers Group (PICMG), PXI Systems Alliance (PXISA), Standardization Group for Embedded Technologies (SGeT), European Telecommunications Standards Institute (ETSI), and Open Compute Project (OCP).
ADLINK offers R&D and integration in the US, Germany, Taiwan and China; volume manufacturing in Taiwan and China; an extensive network of worldwide sales and support offices; and a continually expanding partner ecosystem. ADLINK is ISO-9001, ISO-14001, ISO-13485 and TL9000 certified and is publicly traded on the TAIEX Taiwan Stock Exchange (stock code: 6166).