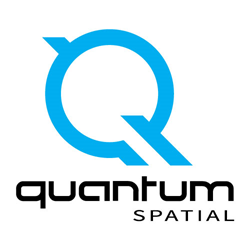 "We look forward to this event every year as a way to feature the value we deliver for our customers, and to learn more about their challenges in order to continue advancing our solutions."
San Diego, CA (PRWEB) July 06, 2017
Quantum Spatial, Inc. (QSI), the nation's largest independent geospatial data firm, will showcase its advanced analytics solutions at the Esri User Conference next week in San Diego. An Esri Gold Partner, QSI uses Esri's products as an integral part of data processing and analytics in its application stack.
A variety of sectors – including government, natural resources, public safety, transportation, utilities, and engineering and construction – rely on QSI solutions. These users look to QSI to help them turn the massive amounts of geospatial data they collect into insightful intelligence for mitigating risk, planning for growth, improving resource management and advancing scientific understanding.
"Our partnership with Esri enables QSI to deliver cutting-edge geospatial analytics applications," said Anand Iyer, senior vice president, Products & Marketing at QSI. "We look forward to this event every year as a way to feature the value we deliver for our customers, and to learn more about their challenges in order to continue advancing our solutions."
WHAT: Esri User Conference
An annual event where attendees can explore and test-drive new software solutions that are transforming the world by unlocking data's full potential, powered by ArcGIS
WHEN: Monday, July 10 to Friday, July 14, 2017
WHERE:Quantum Spatial Booth 610
San Diego Convention Center
San Diego, CA
About Quantum Spatial, Inc.
Quantum Spatial, Inc., (QSI) the nation's largest independent geospatial data firm, provides geographic insights to the largest government and corporate organizations that need geospatial intelligence to mitigate risk, plan for growth, better manage resources and advance scientific understanding. A pioneer in advanced mapping technology, QSI's end-to-end solutions and services deliver the industry's highest data quality and accuracy, while leveraging the widest array of technologies for analyzing all types of terrains. Customers use the company's acquisition, processing, analytics and visualization solutions in a range of technical and scientific disciplines – from geology and biology, to hydrology, forestry and civil engineering. Utilities, oil and gas producers, engineering and construction firms, as well as the military and major government agencies, are QSI customers. QSI has multiple offices around the country. For more information visit quantumspatial.com, join us on LinkedIn or follow us on Twitter @QuantumSpatial.