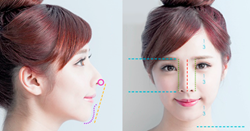 To boost the aesthetic potential of the nose, a proprietary technique comprising of 3 different methods is utilised to enhance the subtle proportions and the 3D angles of the nose
Singapore, Singapore (PRWEB) August 01, 2017
Researchers have established rules of beauty with a proven ratio – the Golden Ratio of 1.618 to 1.0. "Such mathematical rules of the universe highlighting symmetry and proportion are critical in altering perceptions of physical beauty and when employed to the nose, one of our defining facial features, results in a nose that is deemed to be more attractive than one that deviates from it" says Dr Low Chai Ling, Medical Director of The Sloane Clinic
This fascination to attain the perfect nose is most evident in the trend amongst Asians to beautify it through surgical rhinoplasty, one of the earlier nose enhancing surgeries. As individuals living in warmer climates and greater humidity have evolved flat noses and wider nostrils, advanced technologies such as fillers and most recently, thread lifting, are now available for nasal beautification. Commonly known as "Lunch Time" Noselifts, these newer non-invasive alternatives are more effective and have lesser if not no downtime.
How Does It Work?
The Sloane Clinic™ devised the 3D Nose Lift treatment from an understanding of these rules of aesthetics. Dr Low Chai Ling and her team of doctors have had vast experience working with both nose fillers and threadlifts; in fact their clinic offers both non-surgical nose enhancements as well as surgical rhinoplasty through their Cosmetic Surgery department. She says " For patients who doesn't want surgery rhinoplasty, 3D Nose Lift is an attractive, holistic and low downtime option". Dr Low adds: "To boost the aesthetic potential of the nose, a proprietary technique comprising of 3 different methods is utilised to enhance the subtle proportions and the 3D angles of the nose".
Step 1: Strategic injections of 100% bio-absorbable PDO threads are performed by highly trained doctors to land support and add definition to the nose bridge. These special dissolvable threads further spur collagen growth in adjacent tissue to anchor the lifted nose.
Step 2: A further augmentation of the nasal spine with 100% bio-absorbable PDO threads, customised for the nasal spine, to heighten the nose improves the base to tip ratio for a more streamlined appearance.
Step 3: The last dimension to give the face maximal beauty edge is completed with highlighting the nose from the nose bridge to the brow bone using Revitalift, a series of mircoinjections to deliver tiny drops of pure hyaluronic acid. A beautiful nose comprises of the contour from the brow tip aesthetic line, an imaginary curvilinear line that runs from the inner eyebrow along the shadow of the bridge to the tip.
Commonly compared to nose fillers, the thread lifting procedure of 3D Nose Lift is far superior in maintaining the structure, shape and size of the nose for up to a period of 2 years depending on the individual. Done under local anaesthesia and under 30 minutes with instant visible results, though some minor swelling or bruising may occasionally be experienced as can be expected from similar injection procedures, there is no need for long recovery time as patients can wear makeup and return to normal activities immediately after.
3D Nose Lift is available at The Sloane Clinic.
Read more: My Quest for a Sharper Nose Without Surgery
The Sloane Clinic™
The Sloane Clinic™ is a chain of medical clinics, addressing aesthetic concerns for the skin, face and body. Its team of doctors constantly seek out and fuse the latest non-invasive cosmetic dermatology and cutting-edge plastic surgery techniques, etching their place at the forefront of new technologies. This unique marriage allows them to serve all beauty concerns without prejudice or limitations. Whether it is a subtle enhancement or a dazzling makeover, The Sloane Clinic™ can answer them with its comprehensive armamentarium of beauty innovations, dedicated medical aesthetic team, fully-trained plastic surgery team and wide range of skincare by SLOANE INC.