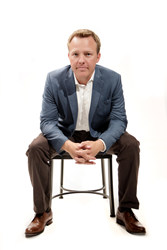 If you do right by your employees, give them a fantastic place to work, they will stay with you long term. Our success is built on their success.
Colorado Springs, Colorado (PRWEB) July 06, 2017
Greg Walthour is passionate about internet marketing, and it shows. As the CEO of Colorado Springs-based SocialSEO, one of the state's premier digital marketing firms, Walthour believes in treating people well and valuing relationships, whether those relationships are with the company's widespread, global clientele or with its employees.
Greg was recently voted "2017 Best Boss in Colorado Springs" by the Colorado Springs Business Journal. "He has created a culture that no one can match. His employees love to come to work … it's like family here. Seems we have found a nice balance… we WIN and we have fun along the way," says Rick Stark, COO of SocialSEO.
Attributing his solid work ethic to his father, Walthour states, 'He has always treated people well, regardless of what that meant to the bottom line.' Although profitability may not be Walthour's primary focus, it appears that following this principle in business has worked out quite well for SocialSEO, as exhibited by the company's amazing growth since its inception, with no signs of slowing down.
Like many of today's successful entrepreneurs, this dynamic digital marketing company comes from humble beginnings. Starting out as a "one-man band" in his basement, Walthour has grown the company by 1,000% in the past five years. SocialSEO's staff of 60 full time employees is a group of highly skilled personnel specializing in SEO, Pay Per Click, and Social Media marketing. Walthour attributes the company's unprecedented growth to maintaining a strong set of clear company values, consistently growing their clients' businesses, and a company culture that both celebrates diversity and builds unity among its employees.
As a result of Walthour's over 20-year history of success with digital marketing, SocialSEO offers its customers a unique and refreshing approach to this essential tool for any successful business, focusing on two main areas; improving the lives of its clients and employees, and helping other businesses succeed. The company culture is one of family, where employees are encouraged to foster ideas, and challenged to conduct business with trust, honesty, and integrity, partake in decision and policy making, be solution minded, exhibit positive thinking and energy, and lead by example at every opportunity; values Walthour not only believes in, but practices daily.
SocialSEO has offices in Colorado Springs, Denver, and Boulder, CO, and is now expanding to Phoenix.
Want to work for the Best Boss in Colorado Springs? SocialSEO is always looking for "go-getters" to continue building their strong digital marketing team. Visit SocialSEO for more information.
Contact:
Daniel Wells
Manager of Marketing and Advertising
(719) 725-6400
daniel(at)socialseo.com