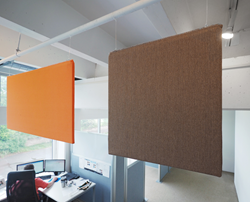 The new ceiling sound panel construction is lighter-weight, more affordable, and just as effective at dampening room sound.
Minneapolis, MN (PRWEB) July 10, 2017
Versare Solutions has recently upgraded their Sound Stones (Ceiling) acoustic panels to a more affordable and easier-to-install version. Unlike the original model, which hung horizontally from all four corners, this version of the ceiling-mounted panel hangs from one side in a flag configuration. Two eyelets built into the inside of the panel allow it to be mounted with the hardware configuration of the customer's choosing. Thes new flag-style mounting method allows the panels to hang down to create visual interest while dampening noise and improving room acoustics.
In addition to the new configuration, Versare is offering the Sound Stones (Ceiling) in a wider variety of customizations. Customers can choose from four shapes: 1'x2', 2'x2', 1'x4', and 2'x4'. The outer layer of the panel is Versare's FR701 acoustical fabric—found on our premium room dividers—that is available in more than 20 modern colors to suit a variety of office spaces requiring sound control.. The next layer is made of 100% recyclable, 2000-gram density nonwoven polyester. Unlike toxic fiberglass foam panels on the market, our sound panels use an environmentally-friendly and recyclable nonwoven polyester which provides premium sound control in offices, classsrooms, restaurants, and more.
Along with providing noise-dampening benefits, these hanging acoustic panels add visual interest to any setting. Sound Stones (Ceiling) provide relief and acoustical control anywhere noise and reverberation are found—from offices to auditoriums, hallways to music rooms, and churches to hotels. Because of their affordable price, customers can confidently combine Versare's other sound panels and acoustic products to dampen noise in their office or classroom environment.