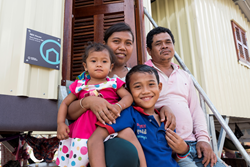 The importance of giving back to those who are less fortunate is a big reason why REX was started and is continuing to grow
Woodland Hills, CA (PRWEB) July 12, 2017
REX Real Estate Exchange is building its third home in Sihakouville, Cambodia as a part of their social mission to build a home in an impoverished community for every 40 homes sold. REX partners with World Housing and Cambodian Children Fund on this initiative.
"We are thrilled to be building our third home for a Cambodian family in need," says REX Co-Founder Jack Ryan. "The importance of giving back to those who are less fortunate is a big reason why REX was started and is continuing to grow."
Families living in the Sihakouville region of Cambodia face flooding and other environmental challenges due to rising sea levels. The homes REX provides are constructed from steel and are estimated to last more than 20 years with regular maintenance. By using stilts to elevate the homes 6.5 feet above ground, REX creates space for socializing beneath the more private, lockable area for cooking and sleeping. By building stable homes, REX is helping families in this area to provide their children with a more stable and safe environment in which to go to school and continue their educations.
Established in LA in 2015, REX was founded on a belief that good business is built upon a strong moral value system. In addition to providing homes for those in need, REX employees have pledged to contribute a portion of their salaries to help provide a variety of resources for children in unstable environments.
CEO and Co-founder, Jack Ryan, has always gravitated towards helping others. His experiences range from volunteering at a refugee camp on the Texas-Mexico border to teaching high schoolers on the South Side of Chicago, where some students were often living in a different house every week. Driven by a desire to do more for others, Jack partnered with REX Co-founder, CMO, and COO, Lynley Sides, to build a philanthropic mission into REX's business model. Sides has a background in building successful businesses that are both good for consumers and good for the world.
"The social mission of REX is discussed with every employee before they are hired," says Sides. "Everyone who joins REX shares in the belief that the success of the company should be reflected in the work we do helping others."
In addition to its social mission, REX is also committed to advocating for the home buyers and sellers it serves. By leveraging artificial intelligence, machine learning, and big data analytics, REX can reach home buyers directly online and sell homes more efficiently and more affordably. REX is the only company in the industry that does not use the MLS or traditional real estate agents. By circumventing the MLS, REX saves sellers an average of $25,000 in fees.
For media inquiries, please contact Nikki Brown at Melrose PR Nikki(at)melrosepr(dot)com or call (310) 260-7901.
About REX
REX is the only real estate company transforming the real estate industry by applying big data analytics, AI, and machine learning to market homes directly to buyers instead of relying upon traditional agents. By leveraging advanced digital marketing technologies, REX can find the right buyers and sell homes faster than MLS-listed homes for a 2% fee instead of the industry standard of 5-6%. REX is committed to helping families in need by building a home for every forty homes sold.