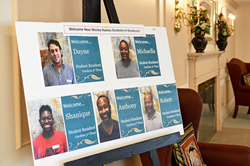 Des Moines, WA (PRWEB) July 13, 2017
Five Highline College students are participating in the first Wesley Homes Students-in-Residence, multi-generational program.
"This is such a distinctive program," said Wesley Homes Director of Sales and Community Relations Lynn Stapleton. "Students at Highline College are living on our Des Moines campus and interacting with residents by volunteering. It's a win-win for both Highline and Wesley."
Over the last few years, both Wesley Homes and Highline College entered into periods of transformation and needed housing solutions.
Wesley Homes Des Moines is in the midst of redeveloping the entire south side of its 42-acre campus to offer residents contemporary accommodations and amenities. This redevelopment occurs in phases over several years and will replace The Gardens, the five-story apartment building. Until a new apartment building is built, vacancies are expected. Wesley Homes needed a solution to fill those short-term vacancies.
Highline College, now a four-year degree institution, needed student housing during a time when rental prices continually rise. Plans are in place to build a dorm, but that housing is two to three years in the future.
After learning about a similar student program in the Netherlands and on the East Coast, Stapleton and Wesley Homes Resident Services Administrator Lisa Meinecke began developing the details of a housing program with their team. They took their proposal to Highline College Director of Special Projects Charis Hnin.
"Highline was very enthusiastic about housing students in our apartments in The Gardens," said Stapleton, "and Wesley has been building strong inter-generational programs. This level of inter-generational engagement really shows our commitment to keeping our residents involved and supporting the greater community."
"There's a power to having a mixed population, a synergy that occurs," said Meinecke. "Residents get to hear first-hand what the younger generations think today. The students get to see that seniors are pretty cool. The program just fosters a greater understanding between generations."
Dayne Post, one of the program's inaugural students, would agree. "I didn't know exactly how to relate to the residents," said Post. "My dad told me to be open-minded, that this could be a great experience. I decided that education could be something that we have in common, so I help them with technology and photos. There's a lot of curiosity about cloud data storage. It really is turning out to be a great experience. And I have a view of Puget Sound from my apartment. I've never had a view before."
"I was afraid I wouldn't like it, but I do," said fellow student-in-residence Robert Hill. "I live with the people I volunteer for. I'm being pushed out of my comfort zone, and that's okay. I receive love and give love to the community. This opportunity is a godsend."
Hill volunteers his time on campus consulting on technology, too.
"People need tech stuff," said Hill. "They need help for their resident events. Sometimes they just need companionship with dominoes and puzzles. I can't do puzzles at all, but these residents are amazing with puzzles."
Though Highline College initially evaluates the students for the program, the rental agreement is between Wesley Homes and each student. In addition to paying $250 per month for their studio apartments, the students must be age 18 or over, currently enrolled at Highline College, pass a background check and tuberculin skin test by Wesley Homes and spend 10 hours a week volunteering with residents.
Volunteer hours can include meals in the dining rooms, technology time, off-campus outings, fitness classes and more. Students are not allowed to volunteer as administrative support. Their monthly fee includes private rooms with a microwave and a refrigerator, one meal per day, utilities, Wi-Fi, housekeeping twice a month, free parking, access to on-campus fitness centers and spas, a storage locker and other amenities.
Hill sees other advantages to participating in the program. "I can help pave the way for other students and be a template. I'm able to be involved in a community and see the direct result."
The other participants to the program are Anthony Austin, Michaella Clemming and Shanique Dickens.
"I love the relationships that Wesley is building," said Meinecke. "We're thinking outside of the box by partnering with the Des Moines Activity Center and Highline College on Wesley U continuing education, with Highline School District on a Montessori Program and with the Millennium Kids Creative Center on a preschool program. We are working on solutions for the community."
Established in 1944, Wesley Homes is a not-for-profit organization that offers a continuum of care for older adults through two retirement communities and a home health agency. Wesley Homes Des Moines and Wesley Homes Lea Hill in Auburn provide a network of services, including independent living, assisted living and housing with services residences; skilled nursing and rehabilitation; and memory care. Wesley Homes Bradley Park in Puyallup, Wesley Homes' third community, is currently under construction. Wesley Homes Home Health provides Medicare- and Medicaid-certified services, in-home care and hospice services to clients in King and Pierce counties.