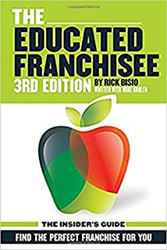 It's been almost a decade since I first published The Educated Franchisee and I've never been prouder of the online and print resources we are offering to aspiring franchise business owners - Rick Bisio
Anna Maria Island, FL (PRWEB) July 10, 2017
Rick Bisio, a leading national franchise coach with 25+ years-experience in franchising, has announced that the 3rd edition of his Amazon best-selling book, The Educated Franchisee, will be available for purchase this month. As one of the nation's most trusted franchising experts, Bisio has added more than 60 pages of new material to the book to ensure it remains in tune with the ever-changing franchise landscape.
Bisio teamed up with PytchBlack, a Dallas/Fort Worth-based creative agency, to rebrand and repackage the book and all The Educated Franchisee online properties. Bisio praises PytchBlack founder and owner, Andrew Yanez, for his company's excellent trademark design and branding system that will help all The Educated Franchisee online and print properties grow and evolve.
"It's been almost a decade since I first published The Educated Franchisee and I've never been prouder of the online and print resources we are offering to aspiring franchise business owners," said Bisio. "Of course, it all starts with the book's content. With 60 plus new pages, including multiple new chapters and the full franchise glossary, the content has never been stronger. The book has also never looked better. I must applaud Andrew and the PytchBlack team for the fantastic work they've done to overhaul the book's design and The Educated Franchisee branding system overall."
Originally published in 2008 with a 2nd Edition in 2011, The Educated Franchisee has helped tens of thousands of aspiring business owners become successful franchise owners. The book helps each reader conduct their personal due diligence process more effectively so they can make smarter decisions when choosing, starting and running a franchise business.
However, a lot has changed in the world of franchising since the book's inception. And as a leading national franchise coach, Bisio has made key changes and additions to ensure the 3rd Edition of The Educated Franchisee addresses everything a modern-day franchise prospect faces during their franchise exploration process. These changes and updates include:

Added the franchise glossary also found in The Franchisee Workbook – the fill-in-the-blank step-by-step workbook designed to assist aspiring franchise owners through each step of an effective due diligence process.
Added important new chapters, such as "the value proposition" and "the history of franchising," to address key concerns and include important information on how the franchise business model has evolved over the years.
Increased the page total to 263 pages – including more than 60 pages of fresh new material custom-built to make the book more relevant in today's world.
And a complete overhaul of the book's branding/logo/design – completed by Yanez and the PytchBlack team
Stay tuned for more updates throughout the summer as Bisio and the PytchBlack team unveil more important changes to all online and print properties found through The Educated Franchisee Resource Center. As an extension of The Educated Franchisee book, Bisio has made the following educational tools available via The Educated Franchisee Resource Center:
About Rick Bisio and The Educated Franchisee Resource Center:
Rick Bisio, a lifetime entrepreneur and 25-year franchise veteran, has dedicated his life to empowering other entrepreneurs seeking smart, fulfilling and profitable business ownership opportunities. Rick's website and each publication/article he's written, including the Amazon best-selling book, The Educated Franchisee, is fully dedicated to equipping potential business owners with the tools and knowledge they'll need to fully evaluate franchise opportunities and make great business decisions. In 2013, as part of his effort to empower entrepreneurs, Bisio launched an informative business ownership initiative called the "Educated Franchisee Movement" that has since blossomed into The Educated Franchisee Resource Center.
Through the use of interactive podcasts, instructional blog posts, and social media engagement, Bisio is doing everything possible to show prospective entrepreneurs how to fully explore business ownership opportunities in a rapidly changing global economy. It is his goal to influence and inspire as many potential business owners as he can and help them launch businesses that fit their business background, skill set and personal needs. To learn more about Rick Bisio and The Educated Franchisee Resource Center, please visit http://www.educatedfranchisee.com.