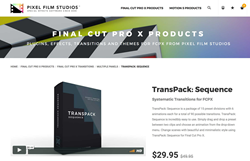 TransPack Sequence is a transition pack that can be customized for any style video.
Aliso Viejo, CA (PRWEB) July 09, 2017
TransPack Sequence is a package of 15 preset divisions with 6 animations each for a total of 90 possible transitions. TransPack Sequence is incredibly easy to use. Simply drag and drop a preset between two clips and choose an animation from the drop-down menu. Change scenes with beautiful and minimalistic style using TransPack Sequence for Final Cut Pro X.
Browse through TransPack Sequence's presets in the Transitions Browser and drag the desired transition between two video clips in the timeline to use. Using the Inspector window, navigate to the Direction drop-down menu to alter the direction of the animation.
There are 15 presets included in TransPack Sequence. Each preset includes either a horizontal, vertical, or diagonal layout and between 2-6 sequential divisions. After choosing a preset based on layout type and amount of divisions users can choose an animation from the drop-down menu to further customize transitions.
TransPack Sequence's minimalistic style makes it applicable to any video production. These transitions can be used effectively in fun, upbeat videos as well as slow-paced more tonally serious productions. TransPack Sequence's versatile style allows it to be used in a variety of productions.
TransPack Sequence is a transition package designed exclusively for Final Cut Pro X. After installing, users can find all TransPack Sequence presets in the Transitions Browser. First, select a transition and place it in the timeline between two clips. Then, utilize the incredibly easy drop-down menu to change animation style in the inspector window.
Established in 2006, Aliso Viejo, California-based Pixel Film Studios is an innovative developer of visual effects tools for the post-production and broadcast community. Their products are integrated with popular non-linear editing and compositing products from Apple FCPX. Apple, the Apple logo, Mac OS X, and Macintosh are registered trademarks of Apple Inc. in the U.S. and/or other countries. All other trademarks and trade names are the property of their respective owners.