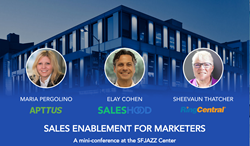 "Marketing typically creates 50-60% of content needed for sales enablement. The content just needs to be re-packaged and delivered where sales can consume and ultimately execute against it." Craig Rosenberg, Co-Founder and Chief Analyst TOPO
San Francisco, California (PRWEB) July 10, 2017
SalesHood, the leading sales productivity platform, is excited to announce that it is hosting a Sales Enablement for Marketers mini-conference on July 12th in San Francisco. "As marketing moves from lead-focused to revenue-focused, sales enablement is becoming more strategic to marketers, says Craig Rosenberg, Co-Founder and Chief Analyst TOPO. "Marketing typically creates 50-60% of the content needed for sales enablement. The content just needs to be re-packaged and delivered where sales can consume and ultimately execute against it, adds Craig."
SalesHood is bringing together sales and marketing leaders for inspirational talks, practical education, and collaborative discussions on how these two roles can leverage sales enablement to make content more effective and increase sales productivity. The conference will provide participants with practical and actionable sales enablement knowledge.
What Conference Participants Will Learn?
1. How to build playbooks for sales that will boost sales productivity across all customer facing teams
2. How to use KPIs and data-driven coaching insights to measure the effectiveness of sales enablement programs
3. How successful companies are aligning marketing and sales to improve time to ramp and sales training
4. How to build a sales culture of best practice sharing and ongoing learning
Speakers
Elay Cohen, CEO of SalesHood and former SVP Sales Productivity at Salesforce, will share his proven sales enablement playbook contributing to billions of dollars of revenue.
Sheevaun Thatcher, Head of Enablement and Training at RingCentral, will share how her team is improving rep productivity and reducing time to ramp by aligning with marketing to create winning sales playbooks.
Maria Pergolino, SVP Global Marketing and Sales Development at Apttus, will share how Marketing works with Sales Enablement to contribute to 50% year-over-year revenue growth.
The sessions will be followed by live Q&A, collaborative discussions, and networking.
"We're on a mission to elevate the sales enablement conversation to CMOs and CEOs" says Elay Cohen, CEO of SalesHood and former SVP Sales Productivity from Salesforce. "Sales Enablement dramatically contributed to our hyper-growth from $300M to $3B by aligning sales and marketing for all of our strategic initiatives."
The talks will be recorded and shared in the SalesHood Ecosystem after the event.
About SalesHood
SalesHood helps companies accelerate sales productivity by improving knowledge, sharing content, tracking effectiveness, and reinforcing best practices. We simplify and automate sales productivity using short videos, mobile, bite-sized content, and social learning. We make it fun and efficient for teams to become more productive. SalesHood customers are doubling win rates, increasing deal sizes, improving time to ramp, improving time to close, and reducing churn. SalesHood has more than one hundred customers, thousands of teams and over twenty thousand people from Alteryx, Apttus, Docusign, Domo, Host Analytics, FinancialForce, InsideSales, NewRelic, ServiceMax, Sonatype, Tealium, Telogis, Yext, Zuora and many more. Join SalesHood today. For more information about SalesHood and request a free trial, visit https://saleshood.com.
Click here to register for the event and find out about future events.