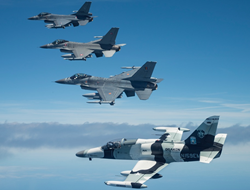 Draken is the only contract air service company in the world operating fighters with modern fire-control radars and 4th generation capabilities.
Lakeland, FL (PRWEB) July 10, 2017
Draken International, operator of the largest privately-owned fleet of ex-military aircraft in the world, has deployed 11 L-159 Advanced Light Combat Aircraft (ALCA) to Nellis Air Force Base to provide direct adversary support to the company's USAF Adversary Air (ADAIR) contract. Upon arrival at Nellis, the L-159 aircraft took to the skies after receiving a Military Flight Release (MFR) authorizing the integration of the L-159 fighter with USAF assets. The L-159's join 13 A-4 Skyhawks that Draken is already operating in support of this contract, for a total of 24 Draken aircraft now based at Nellis.
Draken first debuted the company's L-159 fighter jets in January 2017 providing Red Air to the USMC in support of Operation Agile Lightning. USAF training against the L-159s began in late April with adversary missions supporting the 16th Weapons Squadron (F-16/F-35), 17th Weapons Squadron (F-15E), and the 433rd Weapons Squadron (F-15C/F-22), 57th Wing, Nellis AFB, Nevada.
Sean Gustafson, Vice President of Business Development stated, "The aircraft has exceeded all expectations with exceptional reliability and remarkable radar performance." Draken is the only contract air service company in the world operating fighters with modern fire-control radars and 4th generation capabilities. The L-159, affectionately named the "Honey Badger" by Draken, is equipped with the sophisticated GRIFO radar simulating advanced threat aircraft and missiles.
Draken has been the sole provider of commercial adversary support for the USAF at Nellis since December of 2015, flying over 2,600+ sorties and 4,000+ flight hours in this time. Draken will continue to accept the delivery of several new Honey Badgers each month, resulting in a total L-159 fleet size of 21 aircraft by the end of 2017. The introduction of the Honey Badger to the USAF is solving an ADAIR deficit crisis that requires immediate attention to safeguard the invaluable training of Weapons Instructors and warfighters alike. To meet this growing need, Draken International will increase sortie production at Nellis to provide support for the Air Force Weapons School, Red Flag exercises, and the 422nd Test and Evaluation Squadron. Draken's services deliver dramatic cost savings over the use of military assets, and have saved the USAF over $150 million to date.
In addition to this increased presence at Nellis, Draken recently exercised a global reach capability in an effort to support the Fighter Weapons Instructor Training (FWIT) program hosted by the No. 322 Squadron of the Royal Netherlands Air Force (RNLAF). The Draken L-159s departed Nevada on June 19th and began the three-day Trans-Atlantic journey after providing extensive support for the USAF Weapons Instructor Course graduation exercise the week prior. Following the establishment of a cooperative partnership with Skyline Aviation B.V., the team began a 4-week deployment at Leeuwarden Air Base (Friesland, The Netherlands) providing adversary support to European Participating Air Forces (EPAF) F-16 pilots enrolled in the FWIT program. The primary mission of FWIT is to develop qualified four-ship EPAF (i.e. The Netherlands, Belgium, Denmark, Norway, and Portugal) flight leads into Weapons Officers similar to the USAF Weapons Instructor Course. Draken L-159s will continue to support FWIT missions throughout the month of July.
Gustafson stated, "We believe the Skyline-Draken partnership is providing a valuable, cost-effective service that supports our customer's (EPAF) ability to train and graduate Fighter Weapons Instructor Training (FWIT) candidates in a timely fashion. European Nations are quickly realizing the need for a commercial adversary solution. As Draken continues to increase capacity and capability, coalition warfighters will benefit greatly from an even more challenging and contested training environment that helps maintain the edge needed to fight tomorrow's war."
About Draken International 
Draken International is the world's largest operator of ex-military aircraft.  The company is based out of Lakeland Linder Regional Airport in Lakeland, FL. The organization sets a new standard in airborne adversary support, flight training, threat simulation, electronic warfare support, aerial refueling, research, testing, as well as other missions uniquely suited to their fleet of aircraft. With over 80 tactical fighter aircraft incorporating modern 4th generation capabilities, the company is uniquely positioned to answer the growing global demand for commercial air services. Draken employs world class, military trained fighter pilots including USAF Weapons School Instructors, Fighter Weapons School Graduates, TOP GUN Instructors, Air Liaison Officers and FAC-A Instructors. For additional information, visit http://www.drakenintl.com.