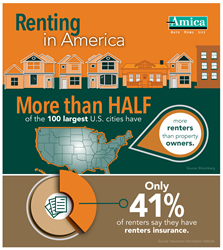 LINCOLN, R.I. (PRWEB) July 10, 2017
From college graduates moving into their first apartments to empty nesters looking to downsize, renting is on the rise in the U.S. In fact, according to Bloomberg, more than half of the 100 largest U.S. cities now have more renters than property owners.
However, in a recent poll by the Insurance Information Institute, only 41 percent of renters say they have renters insurance. And in many of those cases, it's only because landlords require it.
Amica Insurance wants renters to be aware of all the coverage a renters policy offers, and for as little as $4 a week. Renters insurance provides coverage against fire, vandalism and theft, and it also covers clothes, electronics, furnishings and other belongings, even if they're elsewhere, such as in a car.
Renters insurance also provides:

Liability protection against claims for property damage or bodily injury, and helps cover costs for legal representation
Coverage for extra expenses, such as hotel bills, when an apartment becomes uninhabitable
"Many renters don't realize how much they own until they add up the cost to replace everything," said Ben Mellino, assistant vice president in Amica's sales and client services department. "It can easily range into the tens of thousands of dollars, and that's when having renters insurance becomes so clear."
Amica's Renters Essentials product* allows renters to customize their coverage, with added protection for electronics, including smartphones, and identity theft. For tenants planning to eventually buy a house or condo, Renters Essentials gives a yearly $100 credit – up to $500 total – which can be put toward an Amica home or condo policy in the future.
To learn more about renters insurance with Amica, click here.
*This product may not be available in all states.
About Amica Insurance
Amica Mutual Insurance Co., the nation's oldest mutual insurer of automobiles, was founded in 1907. The company, based in Lincoln, Rhode Island, is a national writer of auto, home, marine and umbrella insurance. Life coverage is available through Amica Life Insurance Company, a wholly owned subsidiary. Amica employs more than 3,700 people in 44 offices across the country. For more information, visit Amica.com.
Media inquiries can be sent to MediaCenter(at)amica.com.
Twitter: Amica
Facebook: Amica Mutual Insurance Co.