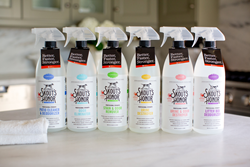 "It's our commitment and priority to do all that we can to ensure the success and well being of pet specialty retailers," said Macon Brock, founder & chief for Skout's Honor
Irvine, Calif. (PRWEB) July 11, 2017
Skout's Honor, the award-winning pet specialty brand that offers Better, Faster, Stronger cleaning solutions to everyday pet stain and odor problems, today announced the addition of Pet Food Experts to its lineup of distribution partners.
Pet Food Experts distributes to more than 3,500 independent retailers in 29 states from coast to coast, and operates four distribution centers in Rhode Island, Pennsylvania, Illinois and Washington.
"Our goal is to provide retailers with the highest quality products from transparent companies that share our love for pets," said Antoine Seailles, market strategy manager at Pet Food Experts. "When I was introduced to Skout's Honor, I knew our retailers would be excited about powerful cleaning solutions from a company of pet lovers who also truly value the environment."
Pet Food Experts will represent Skout's Honor's full line of stain and odor products, including 35 oz. spray bottles of Stain & Odor Remover, Odor Eliminator, Urine Destroyer, Litter Box Deodorizer, Patio Cleaner & Deodorizer, Cat Urine & Odor Destroyer ($14.99 each), as well as gallon-sized versions of its Stain & Odor Remover, Urine Destroyer and Cat Urine & Odor Destroyer ($44.99 each).
"While we continue to grow our business, it's also our commitment and priority to do all that we can to ensure the success and well being of pet specialty retailers," said Macon Brock, founder and chief for Skout's Honor. "Pet Food Experts has a deep understanding of this industry, and a long history of supporting independent retailers in particular – making them a perfect fit for representing our brand."
Skout's Honor products leverage BioKore™ technology and a rapidly biodegradable molecular deodorizer to provide pet owners with Better, Faster, Stronger cleaning solutions. All of the products are non-toxic, plant-derived, biodegradable, bio-renewable, cruelty-free and are always safe to use around pets, family and home.
Buy a bottle, feed an animal in need! As a socially conscious company, Skout's Honor donates a day's worth of food to a shelter animal in need with every product sold through its Skout's Paw Pledge program. The Paw Pledge has helped to provide more than 1,000,000 meals through a strategic partnership with rescuebank.org.
Skout's Honor products are available at more than 5,000 pet specialty retail locations worldwide. For distribution and retail inquiries, please contact Shannan Morlas, National Sales Manager, at /shannan(at)skoutshonor.com.
About Skout's Honor
Skout's Honor is an multiple award-winning company based in Irvine, Calif. that offers BETTER, FASTER, STRONGER cleaning solutions to everyday pet stain and odor problems, including: Stain & Odor Remover, Urine Destroyer, Odor Eliminator, Patio Cleaner & Deodorizer, Litter Box Deodorizer and Cat Urine & Odor Destroyer. Founded by a team of animal lovers and proud pet parents, the company created its "Skout's Paw Pledge," and donates a day's worth of food for a shelter animal in need with every product sold. For more information on the products and for specific retailers, please visit SkoutsHonor.com
###