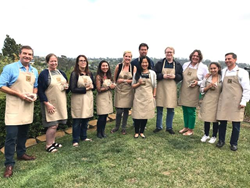 SAN DIEGO, CALIF. (PRWEB) July 11, 2017
Business is booming for Lajollacooks4u this summer, and guests can't get enough of its unique and intimate cooking experiences.
Over the past few weeks, Lajollacooks4u has welcomed a score of groups celebrating milestone birthdays, family get-togethers and corporate team-building cooking challenges. Founder and Chef Jodi Abel has also lead several Farmers Market Tours + Farm-to-Table Cooking Classes, a package that is very popular with tourists visiting San Diego.
Team-building events have also been rising in demand at Lajollacooks4u. Among the corporate teams that have visited include a local law firm and a global management consulting firm. For team-building events, group members are divided into teams and compete against each other in creating several different menu items. By the end of the night, guests walk away not only with new culinary skills and a satisfied palette, but also with the knowledge that their time was well spent establishing a deeper unity with colleagues.
From Farmers Market tours to corporate cooking challenges and team-building events, Lajollacooks4u is certain to provide the most memorable, engaging and delicious experience in all of San Diego!
About Lajollacooks4u:
Lajollacooks4u, founded in 2008, provides a unique culinary experience for corporate cooking challenges and special events in a magnificent setting overlooking the Pacific Ocean. Based in La Jolla, California, Lajollacooks4u has enjoyed record growth since its inception and has been ranked as the top in its category by the popular travel review site, Trip Advisor. Chef Jodi Abel also recently released her cookbook, Lajollacooks4u: California Cuisine, an accumulation of the favorite recipes her guests have been raving about. For more information about her cooking events, as well as her cookbook, please contact jodi(at)lajollacooks4u.com.