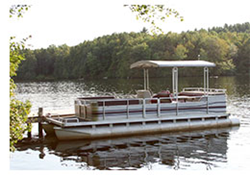 Atlanta, GA (PRWEB) July 12, 2017
Zagoria Law, an Atlanta-based law firm specializing in personal injury cases, today announced it has filed suit in the case of Kathy Hendricks and Anthony Hendricks, Sr. and Anthony Hendricks (AJ), Jr. v. Charles King and Nicholas (Chase) Espinosa for Negligent Entrustment (King) and Negligence (Espinosa). The suit, State Court of Hall County, civil action file number 2017SV149D, was filed after Anthony Hendricks, Jr. was injured while swimming behind a pontoon boat owned by King and operated by Espinosa.
The suit alleges that Espinosa was consuming alcohol while driving the boat owned by King and that after stopping so guests on the boat could swim, Espinosa suddenly engaged the engine, causing the propeller to hit AJ Hendricks' legs. Hendricks suffered deep lacerations that required surgical repair.
"Safe boating requires operators to be in complete command of both their faculties and the vessels they pilot at all times," said Zagoria Law Founder and Principal David Zagoria. "Furthermore, boat owners have a legal obligation to ensure their property is operated in a safe and lawful manner."
"The injuries my client sustained were incapacitating and may cause him lifelong suffering," Zagoria concluded. "We are confident a Hall County jury will agree."
About Zagoria Law
Zagoria Law is an Atlanta-based personal injury law firm dedicated to providing unyielding representation to its clients. Founder David Zagoria has more than 20 years of experience as a prosecutor and trial attorney litigating injury cases in State and Federal Courts throughout Georgia. Honored as a Georgia Super Lawyer, Zagoria's focus on personal injury cases, specifically dog bites and serious injury-premises liability cases, ensures unparalleled service and dedication from the very beginning of clients' cases until the end. For more information, please visit http://www.lawzagoria.com.