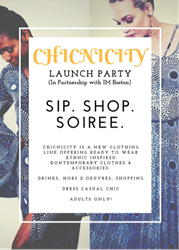 We are excited to create clothes in popular ethnic prints & colors, in easy & modern silhouettes all women can relate to. - Boye Asenuga
Boston, MA (PRWEB) July 12, 2017
IM Boston strives to incorporate the different stories and backgrounds of the people and businesses of New England in their online magazine and marketplace. Their most recent addition to the IM Boston Marketplace, Chicnicity, offers ethnic ready-to-wear clothing with a contemporary twist.
Chicnicity is an online women's clothing store, inspired by ethnic colors and prints, that have been transformed into silhouettes for the modern woman. The new line features dresses, skirts, and accessories. Their clothes are stylish, versatile and great fitting pieces with bold colors, prints and details for the woman who desires to have a fun but functional wardrobe. As described on their website, their brand began with a group of friends who wanted to be "Chic in their Ethnicity" and "Chic in the City."
Chicnicity is hosting their launch party on Saturday July 15th, 2017 at the event space at Woodland Station Apartments from 2:00-8:30 pm, located at 1940 Washington St, Auburndale, MA 02466 (T STOP directly opposite the venue). The event will feature drinks, hors d'oeuvres, and shopping. If you bring along 5 friends, you will receive a free gift.
Boye Asenuga, one of the founders of Chicnicity had this to say about their designs: "We are excited to create clothes in popular ethnic prints & colors, in easy & modern silhouettes all women can relate to. Ethnic inspired designs have been celebrated on the high fashion runways and we believe people will embrace this trend when shown in familiar silhouettes. We aspire to make connections through fashion in this increasingly small global world we live in!"
Their pieces are of high quality, with great stitching and finishing. The team behind Chicnicity has experienced designers who have more than a decade of experience in the fashion industry. The intricate attention to detail enhances the great fit in each of the pieces.
"We are thrilled to have such a unique brand on our marketplace. We love the inspiration behind the brand and the emphasis on wearing practical, yet fun clothes," says Stefanie Daneau, founder of IM Boston. "We are excited to be growing our marketplace with amazing designers such as Boye and her team."
IM Boston encourages people to learn more about Chicnicity on their website. To see and purchase Chicnicity's pieces on the Marketplace, IM Boston encourages you to visit her shop.
IM Boston is a Boston centric online magazine highlighting and sharing stories of people around the city. It was born from the idea that everyone has a voice that should be heard. IM Boston strives to bring the community together by discovering inspiring stories, participating in charity programs, hosting networking events, and more. To learn more about the magazine and how to participate, please visit their website.