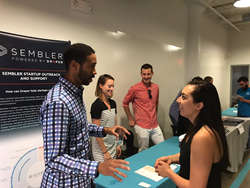 "We believe in the importance of an integrated innovation community," said Nathan Wiedenman, Director of the Sembler office at Draper
Cambridge, MA (PRWEB) July 11, 2017
There's never been a better time to want to take your business into space. Private companies are exploring how to fly to Mars, how to create new satellite networks, how to launch orbiting cell towers and how to make the Moon livable. In 2015 alone, the U.S. aerospace industry added $144.1 billion in export sales to the economy, and entrepreneurs are bullish on the prospects of the new space economy.
Setting your sights on space is one thing. Launching a successful space-based business is another, which is one reason why Draper's Sembler office is sponsoring the 100th Mass Innovation Nights (MIN) at the Museum of Science, Boston.
"We believe in the importance of an integrated innovation community," said Nathan Wiedenman, Director of the Sembler office at Draper. "Sembler is Draper's way of fostering the development of technology entrepreneurs by giving them a way to leverage Draper's extensive resources and 80+ years of expertise in solving the world's toughest engineering problems."
Draper occupies a special position within the space ecosystem that gives the company deep expertise in what's required—and how to deliver—commercial technologies that will perform in space. Draper helped put a man on the moon and continues to provide technology, systems and consulting to all three regions of space—terrestrial, in-space and planetary.
A range of companies plan to participate in the MIN event.

Additional organizations participating in the MIN event at the Museum of Science include Guardion, Smithsonian Astrophysical Observatory, Tellus Labs, The Quantly Group and Upstream Tech.
Draper's contributions to these startups build on the company's legacy of support to commercial space companies and to NASA, which began with Draper's design of the Apollo guidance computer, and has continued with programs including the International Space Station, the Space Shuttle and the Sierra Nevada Corporation's Dream Chaser® spacecraft.
Draper
At Draper, we believe exciting things happen when new capabilities are imagined and created. Whether formulating a concept and developing each component to achieve a field-ready prototype or combining existing technologies in new ways, Draper engineers apply multidisciplinary approaches that deliver new capabilities to customers. As a not-for-profit research and development company, Draper focuses on the design, development and deployment of advanced technological solutions for the world's most challenging and important problems. We provide engineering solutions directly to government, industry and academia; work on teams as prime contractor or subcontractor; and participate as a collaborator in consortia. We provide unbiased assessments of technology or systems designed or recommended by other organizations—custom designed, as well as commercial-off-the-shelf.