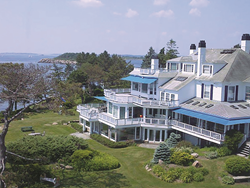 Beverly, Massachusetts (PRWEB) July 18, 2017
Kaminski Auctions is pleased to announce an On-Site Auction featuring the collection of Professor John J and Linda Donovan at The Stables at Devon Glen Farm Rear, 482 Bay Road, Hamilton Massachusetts on Saturday, July 22, 2017, at 10:00 am EST. The auction features the contents of their estates of Seagate, Manchester by the Sea, Devon Glen Hamilton, Massachusetts, Windsor House, Tuckers Town Bermuda, Pomfret Farm, Pomfret, Vermont and Indian Ridge Farm, Ipswich Massachusetts.
An Estate Tag Sale will be held on Thursday,Friday and Saturday, July 20, 21, and 22, 10:00 am – 6:00 pm during preview.
The collection includes outstanding 18th and 19th-century English antiques and furnishings, sterling silver, sculpture, fine art, porcelain, and a collection of antique horse carriages and antique cars.
Professor John J. Donovan a well-known figure in the world of academia, Boston business circles and on the North Shore of Boston received Ph.D. degrees from Yale University and Prague University as well as a post-doctorate degree from the Massachusetts Institute of Technology.
His academic appointments include a tenured Professor at MIT, a Clinical Professor of Pediatrics at Tuft's Medical School, a Harvard University scholar, and a Yale University fellow. Professor John J. Donovan has also authored sixteen books, ten US patents and fifty-five scholarly papers over his academic career.
Dr. Donovan is the founder and former chairman of twenty-eight companies. Nine of those were public companies and include Cambridge Technology Partners, Cambridge Technology Group, and CTG/ Samsung partners. At one time they were valued at a total market cap of $10.6 billion.
In government, Professor Donovan has worked for and advised Presidents Bush, Reagan, Carter, General Richard Myers 15th Chairman of the Joint Chiefs of Staff and Robert Mueller former Director of the Federal Bureau of Investigation.
Linda Donovan, wife of Professor John J. Donovan was also educated at Harvard in the Ph.D. program and served on the faculty of Harvard University teaching Econometrics before her retirement. She had previously served as Chief Financial Officer of the Anderson Grain Company.
Dr. John J. Donovan currently teaches at MIT in the Department of Economics, is affiliated with Harvard University and is completing two books titled e-Entrepreneur and Last Lecture. In addition, Dr. Donovan is a founder of a company inspired by his son John Jr.
Both Professor John J. and Linda Donovan were avid fox-hunters and equestrian enthusiasts. Their collection of antique horse-drawn carriages includes two late 19th to 20th century horse-drawn "Fifth Wheel" carriages, a horse-drawn single axel cart on two wheels with a tufted burgundy velvet seat. There are also two sleighs dating from the 19th century to the early 20th century. The first is a horse-drawn single runner sleigh and the second a double runner sleigh both in excellent condition.
The couple also collected Cape Ann seascape paintings by such noted artists as Donald Allen Mosher, Paul Strisik, and John Caggiano. On offer are lovely seascapes of Rocky Neck, Rockport and scenes of Gloucester. There are also paintings by the Maine artists Roger Deering (1904-1980) and Ron Goyette (1941-2002). Contemporary artists include works by Bruce Backman Turner and Marion Gray Traver (American, 1892-1964).
Antique Georgian and Federal furniture abound in the collection. Highlights include an impressive Georgian mahogany secretary bookcase with glazed mullioned cabinet doors and satinwood interior drawers, above a red leather writing surface. There is an exquisite 19th century Federal mahogany secretary bookcase on bracket feet. The glass mullioned cabinet doors reveal shelves framed by fluted quarter columns. Other furniture highlights include a 19th century English mahogany campaign chest with five drawers mounted with brass hardware and a circa 1870's Victorian pool table with elaborate inlay labeled "J. E. Came Company, Boston." It measures approximately 32 inches high by 105 inches long by 58 inches wide and is conservatively valued at $3,000-$5,000.
Several gentlemen's watches are on offer including a Rolex Cellini and of particular importance, an eighteen carat white gold Patek Philippe with moon phase dial, automatic day and month indicator and original strap and buckle numbered P83000 & 756C33.
Consistent with the elegance and refinement of the six Donovan residences, the collection includes silver and silver services, important KPM porcelain and china from such names as Royal Crown Derby, Herend, Limoges and Coalport. Too numerous to mention are various oriental rugs, crystal chandeliers, gilt mirrors, and ship models, as well as a vast collection of furniture and furnishings.
The auction will take place in the spectacular setting of Devon Glen Farm under tents in the horse paddocks in front of the stable at Devon Glen. The magnificent horse stabling has featured in many equestrian design books and magazines.
Preview is open all day while the auction is live. For more information go to http://www.kaminskiauctions.com and sign up to bid with KaminskiLIVE.