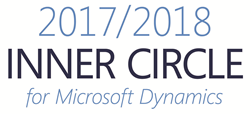 Microsoft is honored to recognize SBS Group for their achievements this past year and for their dedication and support of Microsoft Dynamics solutions
Edison, NJ (PRWEB) July 13, 2017
SBS Group, a leading information technology services and consulting firm,has achieved the prestigious 2017/2018 Inner Circle for Microsoft Dynamics. Membership in this elite group is based on sales achievements that rank SBS Group in the top echelon of the Microsoft global network of partners. Inner Circle members have performed to a high standard of excellence by delivering valuable solutions that help organizations achieve increased success.
2017/2018 Inner Circle members are invited to the Inner Circle Summit, taking place in fall 2017 where they will have a unique opportunity to share strategy and network with Microsoft senior leaders and fellow partners.
This recognition of Inner Circle for Microsoft Dynamics came during Microsoft Inspire (formerly Microsoft WPC), the annual premier partner event, running from July 9-13, 2017 in Washington, D.C.. Microsoft Inspire provides the Microsoft partner community with the opportunity to learn about the company's road map for the upcoming year, establish connections, share best practices, experience the latest product innovations and learn new skills.
"Each year we recognize and honor Microsoft Dynamics partners from around the world for exemplary business performance," said Frank Holland, Corporate Vice President, Microsoft Business Solutions Sales & Partners. " These award-winning partners represent the top 1% of Microsoft Dynamics partners in terms of sales performance, but their critical impact on the success of our shared customers is what truly stands out. Microsoft is honored to recognize SBS Group for their achievements this past year and for their dedication and support of Microsoft Dynamics solutions."
SBS Group is dedicated to supplying valuable solutions that help customers realize business value faster by working with them to identify the best solutions and services that accommodate their business needs while excelling in customer satisfaction. By collaborating with the teams at Microsoft, the SBS team maintains a strong expertise of Microsoft cloud services and technologies to provide innovative solutions, strong services, and positive business impact to their customers. This is fifth time this decade that SBS has achieved Inner Circle.
"We are pleased to once again be recognized as part of this exclusive group," said James R. Bowman, SBS Group's President and CEO, "This achievement is a result of the tremendous efforts and deep commitment of everyone at SBS Group to delivering great solutions and excellence in serving our employee, partner, and customer communities."