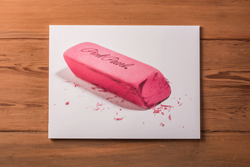 "Our knowledge and expertise in producing high-impact graphic communication and marketing materials is echoed by receiving this distinction," said Eric Webber. "Being named one of the best in the industry is a true honor."
Rochester, NY (PRWEB) July 12, 2017
Cohber Press, Inc., a renowned print service provider, was recently granted the highly-desired National American Advertising Award, formerly the ADDY Award, from the American Federation Association in the Advertising Industry Self-Promotion Print Advertising category. The American Advertising Awards is the advertising industry's largest and most representative competition, attracting more than 40,000 entries every year from local ad club competitions. The mission of the American Advertising Awards competition is to recognize and reward the creative spirit of excellence in the art of advertising.
"For the second year in a row, Cohber has brought home a coveted National American Advertising Award," said Eric Webber, president and CEO of Cohber. "Our knowledge and expertise in producing high-impact graphic communication and marketing materials is echoed by receiving this distinction. Being named one of the best in the industry is a true honor."
According to the American Advertising Awards website, the competition is conducted annually and consists of three tiers, starting with the local Ad Club phase. Concurrently, across the country, local entrants vie to win ADDY Awards—recognition as the best in their markets. At the second tier, local ADDY winners compete against winners from other local clubs in one of fifteen distinct competitions. District ADDY winners are then forwarded to the third tier, the national stage of the American Advertising Awards.
Cohber's winning entry, FUEL 17: FAIL, was part of their annual customer gift born and produced by Cohber. The idea started in 2015 when the company, who had been producing calendars as a customer appreciation gift for years, decided they wanted to reinvent the annual piece and create something that inspires all year long. Cohber's Chief Creative Officer, Judi Gavin, reached out to freelancers Kate Sonnick, Michele Hamilton Randall, and Diane Fitzgerald Harris to conceptualize and design the piece and the FUEL creative team was born. They came up with a concept where they would engage 12 creative professionals from the Rochester area by providing them with a word that they had to interpret in their own creative way with little rules or boundaries. For FUEL 17: FAIL, the creatives were hand-selected and asked to create an Instagram worthy film about what failure meant to them. These films were downloaded onto a Pink Pearl eraser thumb drive, the symbol chosen to represent the FAIL theme. A large 20" x 15" pad served as the calendar and housed the thumb drive. The vibrant leaves provided 12 additional creative interpretations of failure in 2D, concepted and created by the FUEL creative team. The imaginative designs were the perfect canvas to showcase Cohber's specialized print techniques such as soft-touch coating, florescent touch plates, spot gloss and dull varnishes, digital ink, printing on varied substrates, high-gloss UV coating, hand-finishing techniques, and 3-dimensional print. All contributed to the calendar's tactile interest.
"The print piece makes an impact, highlighting color, detail, and magnitude," said Webber. "It reflects the kind of work we are capable of and that our vast variety of clients keep coming back for."
To learn more about FUEL 17: FAIL and its creative collaborators, visit http://www.cohber.com/our-work/fuel-17/.
About Cohber
Since 1931, Cohber has provided industry leading print and direct marketing solutions to both local and national companies. The company offers a full gamut of marketing communication services including offset printing, digital printing, data solutions, mailing and digital marketing services, all proven to drive results and earn clients a higher rate of return on their investments in a cost-effective manner. For more information, visit http://www.cohber.com/.