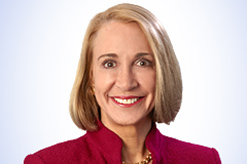 Chapel Hill, N.C. (PRWEB) July 12, 2017
The University of North Carolina Kenan-Flagler Business has named Margaret Cording as president of UNC Executive Development.
UNC Executive Development partners with a wide array of organizations to create customized executive development programs to answer business challenges. It is the No. 1 U.S. public university program offering customized executive education in the U.S., according to the 2017 Financial Times rankings.
"Margaret Cording brings an amazing combination of experience – corporate, academic, executive education and global – and skills that make her the right leader for this strategically important role," said Douglas A. Shackelford, dean and Meade H. Willis Distinguished Professor of Taxation at UNC Kenan-Flagler. "A seasoned professional in developing and managing an executive education business, her strategic and relationship-building approach will help us grow and innovate."
Cording served at IMD as regional director for Southeast Asia and Oceania and professor of strategy in Singapore prior to joining UNC Kenan-Flagler. There she developed and implemented an executive education growth strategy for the region, establishing IMD's first geographic expansion outside its home campus in Lausanne, Switzerland. She developed many programs to meet the needs of MNCs as well as executives in the region, and was involved in building and managing an executive learning center.
"I'm excited to join UNC," said Cording. "Companies around the world are struggling to build the human capital necessary to excel in our complex world. UNC Executive Development is dedicated to building strong partnerships to effect change both for individuals and their organizations through our innovative designs and outstanding faculty. The field of executive education is on the cusp of significant change and UNC Executive Development is positioned well to lead that transformation."
Cording began her career as an investment banker in New York after she earned an MBA in finance from Wharton School at the University of Pennsylvania. She rose to managing director at Chase Manhattan Bank, and decided to pursue an academic career.
She earned a PhD in strategy and business ethics from the University of Virginia and served on the faculties of Rice University and IMD. Her research focused on strategy implementation and change management, post-merger integration and stakeholder management, globalization strategy, and breaking the Asian glass ceiling.
About the University of North Carolina Kenan-Flagler Business School
Consistently ranked one of the world's best business schools, UNC Kenan-Flagler is known for its collaborative culture that stems from its core values: excellence, leadership, integrity, community and teamwork. Professors excel at both teaching and research, and demonstrate unparalleled dedication to students. Graduates are effective, principled leaders who have the technical and managerial skills to deliver results in the global business environment. UNC Kenan-Flagler offers a rich portfolio of programs and extraordinary, real-life learning experiences: Undergraduate Business, full-time MBA, Executive MBA Programs (Evening, Weekend and Global OneMBA®), online MBA@UNC, UNC-Tsinghua Dual-Degree EMBA, Master of Accounting, PhD, Executive Development, and UNC Business Essentials programs. It is home to the Frank Hawkins Kenan Institute of Private Enterprise.