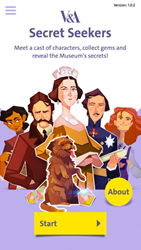 We felt that this game is the perfect format, bringing museum characters to life and setting a challenge that gives players licence to roam around the Museum.
(PRWEB) July 13, 2017
BAFTA-winning purposeful games studio Preloaded is delighted that its latest project, V&A Secret Seekers, has launched at the Victoria and Albert Museum (V&A) in London.
V&A Secret Seekers is a new mobile game designed for families, launched to coincide with the opening of the V&A Exhibition Road Quarter. A permanent addition to the Museum's visitor offer, the game sees eight characters from the V&A' s rich history – including founder Prince Albert – guide users on an exciting treasure hunt to uncover some of the secrets of the Museum. Through a series of quiz-based challenges the game will help children and families discover little-known facts and features hidden in the collection.
Created by award-winning games studio Preloaded, V&A Secret Seekers encourages players to explore the history and buildings of the V&A. Original illustrations and animations bring the personalities of the Museum to life, including royal founder Prince Albert, his wife Queen Victoria, mischievous dog Jim, the first restaurant manager Madame Celeste, chief engineer Captain Fowke, famous designer William Morris, curious art student Annie Kemp and the Museum's first Director, Henry Cole.
The gameplay sees players move throughout the Museum, guided by the characters to uncover parts of the V&A they may not have noticed before, revealing interesting historical facts and trivia. Correct answers are rewarded with gems, which add up to unlock new Achievements as players explore. With over 60 challenges to complete, the game can be played for 10 minutes or four hours, inviting repeat play over a number of visits. Designed in HTML5 to be enjoyed on any device, V&A Secret Seekers is best experienced on a smartphone or tablet while visiting the Museum, which has free wi-fi throughout.
"It's a real privilege to have created the V&A Secret Seekers game to mark the opening of the Museum's new entrance. The building has been at the heart of British innovation for over a century, constantly evolving to suit the needs of the community," said Ben Templeton, Associate Creative Director at Preloaded. "Our aim was to help families feel at home, by getting to know the V&A's nooks and crannies. We felt that this game is the perfect format, bringing museum characters to life and setting a challenge that gives players licence to roam around the Museum. V&A Secret Seekers was a perfect partnership because the V&A believes everyone should have access to great design and Preloaded knows that everyone likes to play!"
The V&A Exhibition Road Quarter, which is featured in the new V&A Secret Seekers game, opened to the public on Friday 30 June 2017. Taking six years to realise, the spaces create a beautiful and unique new civic space for London, and a world-class gallery for the V&A's internationally acclaimed exhibition programme. Designed by Stirling Prize-winning architect Amanda Levete and her practice AL_A, the new entrance on London's great cultural artery, Exhibition Road, connects the Museum with its neighbours, reinforcing the Albertopolis vision of intellectual ambition and innovation and creates a sequence of major new spaces that have been supported by the Heritage Lottery Fund.
Bryony Shepherd, Head of Interpretation at the V&A, said "With the opening of the V&A Exhibition Road Quarter, we have a new entrance to the Museum and a new way in to its collections and story. The Museum has been on this site for 160 years and since then it has created buildings to not only house the collections, but also to showcase inspiring design and architecture. With V&A Secret Seekers, we aim to make this rich history visible, encourage conversations between generations and spark the imaginations of the next artists, designers and architects by offering a fresh and exciting way to explore the Museum's story at first hand, through the phone in your pocket. Come and play at the V&A!"
For more information on Secret Seekers or to play the game, visit https://www.vam.ac.uk/seekers/.
About Preloaded:
Preloaded is a BAFTA-winning applied games studio, using the power of play to solve problems and change lives. Founded in 2000, Preloaded has gained an international reputation, working with a mix of broadcasters, museums, brands, government organisations, charities and NGOs. Preloaded uses games to deliver transformational goals, such as improving cognitive function, learning new skills and affecting positive behaviour change.
The studio's methodology places the user at the centre of their design process, developing products that are designed to meet the needs of the audience whilst delivering the project's specific objectives. They are platform agnostic with a passion for touch-screens, motion controllers and Virtual Reality. Preloaded is based in London and is part of Learning Technologies Group plc, a steadily growing group of specialist learning technology businesses.
About the V&A Museum:
The V&A is the world's leading Museum of art, design and performance with collections unrivalled in their scope and diversity. It was established to make works of art available to all and to inspire British designers and manufacturers. Today, the V&A's collections, which span over 5,000 years of human creativity in virtually every medium and from many parts of the world, continue to intrigue, inspire and inform.
About the HLF:
Thanks to National Lottery players, we invest money to help people across the UK explore, enjoy and protect the heritage they care about – from the archaeology under our feet to the historic parks and buildings we love, from precious memories and collections to rare wildlife. For more information visit http://www.hlf.org.uk, or follow us on Twitter, Facebook and Instagram and use #HLFsupported and #NationalLottery.