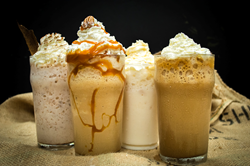 "Our new drink offerings are the perfect complement to our scratch-made desserts," says Bobby Jucker, Three Brothers Bakery co-owner and fifth generation baker.
Houston, TX (PRWEB) July 14, 2017
The Houston heat is here to stay and Three Brothers Bakery has a perfect refreshing new lineup of beverages to help Houstonians stay cool this summer. The Three Brothers Bakery coffee program debuted during the fall of 2016 and currently features beans roasted in-house. This month, the bakery is rolling out new iced beverages including house-made tea syrups, inventive frappes, lemonade sodas and vanilla crème sodas. Jack Babin, roast master and coffee saucier and Bobby Jucker, fifth-generation baker and co-owner of Three Brothers Bakery, collaborated to create the new beverage offerings.
Frappe flavor options include Fig Mascarpone, Horchata and Thunderdome. The Thunderdome features cold brew coffee with an extra shot of house-made vanilla syrup, blended with milk and ice and topped with a double shot of espresso. The Horchata is made from toasted rice, toasted pecans and Vietnamese cinnamon blended with milk and ice. The Fig Mascarpone frappe features homemade fig preserves and Mascarpone cheese, blended with milk and ice and topped off with whipped cream. Coffee is optional in both the Horchata and Fig Mascarpone frappe. These new flavors join the existing frappe and latte menu, which includes favorites like Dark Chocolate, Vanilla, Salted Caramel, Anise with Cardamom Vanilla and Hazelnut.
New tea flavors include Pomegranate, Huckleberry Lemon and an extra fruity flavor called Triple Black, a blend of blackberry, black raspberry and black currants. Lemonade soda flavors include Triple Black, Pomegranate, Lime and Strawberry, Pomegranate and Blueberry Mint. All syrups are house-made and can be mixed between tea and lemonade, so customers are able to come up with their own inventive flavor combination.
"Our new drink offerings are the perfect complement to our scratch-made desserts," says Bobby Jucker, Three Brothers Bakery co-owner and fifth generation baker. "The coffee program was originally created for our customers to enjoy a new product we care deeply about, and now we are able to really get creative and introduce new, exciting drink items to our customers. Everyone knows it's hot in Houston, so we want to be the place where customers can come enjoy a gourmet coffee, iced tea or refreshing frappe, along with any of our other sweet treats."
The bakery's new drink items are the perfect indulgence and respite from a hot summer day. Three Brothers Bakery is excited for Houstonians to try their tasty new way to take on the heat.
For more information regarding Three Brothers Bakery or any of the bakery's sweet products, please contact Amy Verbout at 713-225-0880 or amy(at)integrateagency(dot)com.
About Three Brothers Bakery
The traditions of Three Brothers Bakery began in Chrzanow, Poland circa 1825, and were preserved despite the family's concentration camp imprisonment during the Holocaust. Their miraculous liberation, and subsequent move to Houston, brought Eastern European scratch baking traditions to 4036 S. Braeswood Blvd, 12393 Kingsride Lane, and 4606 Washington Ave where the owners are now proud to call themselves "memory makers who just happen to be bakers." Perfecting the process for almost 200 years, each day the fifth-generation bakers produce mostly dairy-free breads and pastries, cookies, a full line of specialty dessert cakes and pies, as well as custom birthday, special occasion, wedding and groom's cakes using only the highest quality ingredients.
The Three Brothers Bakery pecan pie was named "the best mail order pecan pie America has to offer" by Country Living magazine, bakery owner, Bobby Jucker competed in the popular 'Food Network Challenge' and has been seen on Food Network's Outrageous Food. Three Brothers won "Best Mail-Order Pies 2012" from Bon Appetit, as well as Modern Baking's "2013 Retail Bakery of the Year" and was part of The Knot's "2010-2013 Best of Weddings" and "Hall of Fame" picks. Most recently, Three Brothers Bakery was named #11 in "America's 50 Best Bakeries" by The Daily Meal, and was awarded the 2013 Jeffrey Butland Family-Owned Business of the Year by the Houston division of the U.S. Small Business Administration. Three Brothers Bakery is a certified Woman-Owned Business through the Women's Business Enterprise National Council, and a State of Texas Historically Underutilized Business.
Follow Three Brothers Bakery on Facebook and Twitter for Houston area news, information and events.