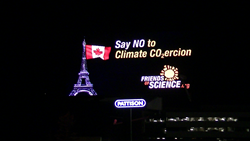 Friends of Science Society denounces the fact that banks and credit unions are under pressure by unelected, unaccountable indigenous and environmental groups to stop financing pipeline projects on climate change grounds
Calgary, Alberta, Canada (PRWEB) July 13, 2017
As reported by Reuters via CBC News on July 09, 2017, Desjardins, the largest association of credit unions in North America, may stop funding future pipeline infrastructure projects: "If it makes the decision permanent, that would likely mean Desjardins would not help finance other major Canadian pipelines projects, including TransCanada Corp's Keystone XL and Energy East and Enbridge Inc's Line 3." Correcting an earlier version of this press release, according to Reuters, Kinder Morgan's TransMountain pipeline expansion financing is locked in: "Desjardins' commitment to Trans Mountain is already locked in, and the lender has no plans to change that."
Friends of Science Society denounces the fact that banks and credit unions are under pressure by unelected, unaccountable indigenous and environmental groups to stop financing pipeline projects on climate change grounds, as reported by Reuters via The Toronto Star on June 8, 2017.
Contrary to activist claims, pipeline approvals in Canada are based on the thorough technical, legal and consultative process of the National Energy Board (NEB), as described in this critique of the proposed modernization of the NEB on Friends of Science blog post of May 17, 2017.
Desjardins Group is 50% owner of NEI Investments, a group which claimed to have been extremely influential in Canadian energy policies in their Jan. 20, 2016 document, "Transitioning to a Low-Carbon Energy System." Friends of Science has been critical of NEI's role as detrimental to the Canadian economy as stated in their blog of Aug. 8, 2016. Credit unions like Desjardins were founded on the principle of community finance with a mission to "improve the economic and social well-being of people and communities."
Ottawa energy policy consultant, Robert Lyman, shows that the economic benefits of the TransMountain pipeline are significant:
$7.4 billion in investment in Canada
More than 800,000 person-years of employment during construction and the 20-year operation of the project
$46.7 billion in federal and provincial government tax revenues to fund a wide range of public programs
$23.2 million per year in increased municipal property taxes in British Columbia
$3.7 billion more for Canadian oil producers as a result of increased export sales
In a related story, the Swedish group AP7's made a unilateral withdrawal from six large energy companies, including pipeline builder TransCanada, basing their withdrawal on the Paris Agreement and climate change, as reported by Reuters, June 15, 2017,
Friends of Science says this claim is unsupported as the Paris Agreement is inequitable and would not achieve the claimed objective of reducing emissions, as shown in their blog post of June 09, 2017, thus aspects of Canadian Competition Act and World Trade Organization laws might apply to this divestment campaign.
Friends of Science says the >$100 trillion in assets under management of UNPRI signatories, along with the 'voluntary' reporting to the Rockefeller Carbon Disclosure Project (CDP) have become tools to black or white list corporations for investment. Then, carbon 'risk' is being used as a financial lever to force the banking and corporate sector to invest in inefficient, expensive, tax-subsidized wind and solar, detrimental to the competitive edge of fossil fuel rich Canada.
The International Energy Agency (2016) reports that the world runs 81% on fossil fuels and only 1.4% on wind and solar.
Friends of Science says the UNPRI signatories are operating on outdated climate science of 2002. They say that carbon dioxide is not a control knob on climate. Climate risk and carbon trading plans rely on a "failure of analysis" of climate data by Bank of England Governor Mark Carney, as discussed by Princeton Energy Advisers analyst Steve Kopits' post of Oct. 10, 2015, entitled "Fact Checking Mark Carney."
This story was corrected July 18, 2017 to reflect the fact that Desjardins' financing for KinderMorgan is locked in; their policy change may only affect future pipeline finance as described above.
About
Friends of Science is celebrating 15 years of reviewing a broad spectrum of literature on climate change and have concluded the sun is the main driver of climate change, not carbon dioxide (CO2). Friends of Science is made up of a growing group of earth, atmospheric and solar scientists, economists, engineers, and citizens.
Friends of Science Society
P.O. Box 23167, Mission P.O.
Calgary, Alberta
Canada T2S 3B1
Toll-free Telephone: 1-888-789-9597
Web: friendsofscience.org
E-mail: contact(at)friendsofscience(dot)org
Web: climatechange101.ca