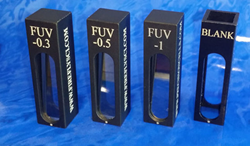 We are all about value added
Staten Island, NY (PRWEB) July 13, 2017
FireflySci Inc. started manufacturing calibration standards in 2010 starting with only two spectrophotometer calibration standards. Blast forward seven years and now they are home to a tremendous line of certified calibration standards that covers photometric accuracy, holmium oxide for wavelength accuracy, and resolution testing.
One mega advantage that FireflySci brings to the table is that every year they are determined to do better than the last. They already offer the best pricing on spectrophotometer calibration standards as well as the re-calibration of these filters. Best pricing coupled with the best turnaround time on re-calibrations has customers from all over the world flocking to FFS to re-calibrate their filters. Now on top of all this, they are giving away free "As-Found" data for all re-calibrations they perform.
As-Found data is one of the most critical components when performing a re-calibration on any NIST certified calibration standards. This data tells exactly how well the standards are aging and when a scientist should upgrade to a new calibration standard. This is a big benefit of As-Found data so a researcher can make appropriate adjustments to their budget ahead of time without having to miss a day of work due to failing standards.
FireflySci dominates in the re-calibration field because every other company in the world charges hundreds of dollars for this data. The elite people who trust their re-calibration work to FireflySci don't have to pay one penny for this information. This gives them the benefit of instant cash in their pockets to spend on other needed tools for their experiments.
The engineers at FFS are fired up that they can offer such a valuable service for their amazing customers for no cost. "We are all about value added," states Simcha Woitovich President of FireflySci. "We want customers to get the best value from working with us and we're happy to continue to add more services with no additional fees. This works out best for us since we get more business and for our customers since they get to save money, which is awesome."
FireflySci is getting more hands on deck to help with the growing demand for re-calibrations. They are making all the preparations to make sure that every customer gets their calibration standards re-calibrated and re-certified as quickly as possible.
For more information on holmium oxide filters and to get a quote on re-calibrating standards please visit http://www.fireflysci.com.