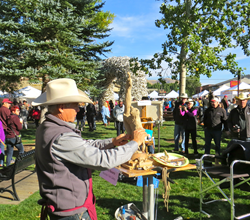 For 11 days, this already artistically abundant area will embrace its role as a cultural capital.
Jackson Hole, Wyoming (PRWEB) July 13, 2017
Already a renowned destination for its Old West feel, welcoming vibe and jaw-dropping Tetons backdrop, the culturally rich mountain resort town of Jackson, Wyoming, will host the 33rd annual Jackson Hole Fall Arts Festival Sept. 6-17, 2017.
For 11 days, this already artistically abundant area will embrace its role as a cultural capital, offering the more than 30,000 expected visitors an opportunity to interact with a select and diverse group of nationally and internationally acclaimed artists and artisans, who will present a staggering variety of world-class works in a packed schedule of family-friendly activities.
The festivities begin with the Museum Jewelry & Artisan Luncheon (tickets required) on Wednesday, Sept. 6, showcasing finely crafted jewelry and wearable art, a portion of the proceeds from which will benefit educational and outreach programs at the esteemed National Museum of Wildlife Art (NMWA).
From there, Jackson – home not only to the NMWA, but also more than 50 art galleries, the vibrant Center for the Arts and numerous arts organizations – will thrum with live music, exquisitely crafted cuisine paired with local wines, and a spirited focus on art and design.
Meanwhile, the Western Design Conference Exhibit + Sale (WDC), celebrating its 25th silver anniversary, kicks off on Thursday evening, Sept. 7, with its must-see opening preview party. The event continues at the Snow King Events Center for three days of one-of-a-kind creations in furniture, fashion, jewelry, home and lifestyle accessories, affording visitors the chance to meet this year's artisans, explore the professionally created life-size Designer Show House, enjoy the Runway Fashion Show and participate in the live Auction, all while relishing locally prepared fare and cocktails.
More highlights for this crowd-pleasing multi-day event include:

Friday, Sept. 8: More than 30 art galleries combine local cuisine and wines with fine art for the popular evening Palates & Palettes Gallery Walk.
Saturday, Sept. 9: Guests visit valley ranches and sample sumptuous barbecue during the Historic Ranch Tours, displaying Jackson Hole's still-thriving cowboy heritage in all its Western glory.
Sunday, Sept. 10: Taste of the Tetons presents a tasting fair in Town Square, showcasing stellar fare from Valley chefs, restaurants and caterers. On the same day and location, the 18th Annual Takin' It to the Streets gathers 40 local artists for an open-air, juried art fair.
Wednesday, Sept. 13: Art enthusiasts meet-and-greet with Mark Keathley, the 2017 Jackson Hole Fall Arts Festival Featured Artist, signing festival posters featuring his painting "Rise Above," followed by an artist reception.
Friday, Sept. 15: Art of the highest caliber from past masters and contemporary artists is available during the Jackson Hole Art Auction at the Center for the Arts, a much-anticipated two-day sale since its inception in 2007.
Friday, Sept. 15 and Saturday, Sept. 16: The self-guided Showcase of Homes tour invites design enthusiasts to explore behind usually closed doors at some of the most exclusive homes in Jackson, all while mingling with professionals in architecture, construction, interior design, landscaping and electronics.
Saturday, Sept. 16: The provocative Jackson Hole QuickDraw event allows nationally, regionally and locally recognized artists just 90 minutes to demonstrate their skills as they complete an artwork for auction. Along with the just-created plein air pieces, the auction features the sale of the 2017 Fall Arts Festival featured painting, "Rise Above."
About the Jackson Hole Fall Arts Festival:
Conveniently located just 20 minutes from the Jackson Hole Airport, Jackson, Wyo., is served by major airlines, including Delta, United, American and SkyWest. Reservation information for Jackson's numerous hotels, as well as a complete schedule of Jackson Hole Fall Arts Festival events taking place Sept. 6-17, 2017, may be found at https://www.jacksonholechamber.com/. For additional information, contact Maureen Murphy at Jackson Hole Chamber, 307.733.3316.
Media Contact: Amy Stark, Word PR + Marketing, amy(at)wordprmarketing(dot)com, 307.734.5335