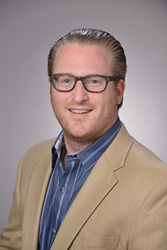 LANAP and LAPIP protocols are less invasive with much less discomfort, but also provide the results that I look for to improve my patients' oral health
Peoria, AZ (PRWEB) July 13, 2017
Dr. Joshua Mondlick has introduced the LANAP® protocol to treat gum disease and LAPIP™ protocol for ailing dental implants into his practice, Mondlick Perio, in the Phoenix area. Dr. Mondlick is at the forefront of the future of dentistry, treating patients with the world's first and only FDA cleared laser treatment to re-grow bone and with significantly less pain than traditional surgery options.
"With traditional surgeries, the experience tends to be severe for patients," states Dr. Mondlick. "The LANAP and LAPIP protocols are treatment methods that are less invasive and with much less discomfort for the patient, but also provide the kind of results that I would be looking for to improve my patients' oral health."
LANAP treatment targets the bacteria and endotoxins causing gum disease, without harming any healthy gum tissue. It also allows the body to recover from the chronic infection without the need for scalpel or sutures. The LANAP protocol is also the only treatment of its kind FDA cleared to regenerate the bone and tissues lost to gum disease.
By adding the LANAP protocol as a minimally invasive regenerative treatment plan, Dr. Mondlick shows his dedication to providing patients with the utmost quality of treatment options. The LANAP protocol can be performed in as little as one treatment session, and is safe to use on patients with pre-existing conditions such as heart disease, hemophilia and diabetes.
Dr. Mondlick spent several years as a general practitioner, before electing to study periodontics at the Veterans Affairs (VA) Medical Center in New York City. He served as a clinical assistant professor in periodontics at Midwestern University's School of Dental Medicine. In addition to being a Certified LANAP Clinician, Dr. Mondlick is also IV sedation trained and Board Certified by the American Board of Periodontology.
For information on the LANAP protocol, call Mondlick Perio at (623) 583-3960.