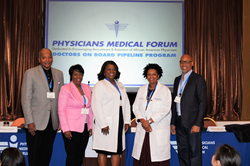 Oakland/ San Francisco Bay Area/ North California (PRWEB) July 13, 2017
Physicians Medical Forum (PMF), aims to expand the pipeline and the number of African American/Black, Native Americans and minority students who want to become physicians. PMF, a non-profit organization, also provides a support network that encourages high school, college/post bac, medical students and residents to pursue their careers as physicians in the Oakland/San Francisco Northern California Bay Area.
To that end, PMF announces on July 11th, 13 students completed its 2017 Community Health Ambassadors Internship Program (CHA), a 6-week program that develops and creates pathways for students interested in becoming doctors or pharmacists. PMF receives funding from The California Wellness Foundation, Kaiser Foundation Hospital Fund for Community Benefit Programs at the East Bay Community Foundation, San Francisco Foundation, and Wells Fargo.
Albert L. Brooks, M.D., President, Physicians Medical Forum stated that students explored a variety of Primary Care medical topics and other healthcare disparities; received training and their American Heart Association Heartsaver CPR AED Card; and had opportunities to be mentored and network with doctors, medical and pharmacy students from UCSF School of Medicine, Kaiser Permanente, the CDC, Sutter Health and San Francisco General Hospital who provided insight into the real world of medicine.
CHA Interns also received training in communications and how to make video presentation. Mitch Roth and Kate Seltzer, President and CEO of Maximum Flavor Media (MFM), a full service video production company based in San Francisco, California conducted the workshops. We produce professional, high quality digital content from corporate marketing videos, client testimonials, and start-up videos to music videos, scripted films, and short-form documentaries. We exist to create unique visual content for you and your brand."
Stalfana Bello, M.P.A., Executive Director, Physicians Medical Forum said, "The Community Health Ambassadors Internship Program provided these incredible students, who will be first generation doctors in their families, a real-world snapshot of medicine and what it takes to become physicians or pharmacists."
Ugomma Eze, CHA Program Coordinator, 2nd year Medical Student, UCSF School of Medicine stated that Ambassadors worked in teams to create three health-focused educational videos or power point presentations for specific community organizations about common public health concerns affecting their communities. The organizations included African American Wellness Project (AAWP) led by the Dr. Michael A. LeNoir who is a past President of the National Medical Association (NMA); The CREATORS After School Program in Oakland, CA with Justin Brydie, Assistant Director as the contact person, and a presentation on the importance of diversity in medicine for the Physicians Medical Forum (PMF).
ABOUT PHYSICIANS MEDICAL FORUM (PMF):
The Physicians Medical Forum is an Oakland, CA based non-profit 501(c)(3) whose mission is to encourage recruitment and retention of African American/Black physicians to eliminate health disparities; improve access to care; and maintain diversity within the profession, thereby, improving the quality of healthcare for the community overall.
Other PMF programs and initiatives include: Doctors On Board Pipeline Program, Doctors Rock Workshop Series on Mentoring, Exam Prep, Interviewing skills and writing personal statements, physicians stipends at UC Davis and UCSF Schools of Medicines, physician education and development, providing scholarships for medical students and residents; networking with legislators and medical organizations and community outreach programs. http://www.PMFMD.com
EDITORS: The following are available for interviews. To arrange interviews, contact: Stalfana Bello | 510.562.5560 | ExecutiveDirector(at)PMFMD(dot)com
· Stalfana Bello, M.P.A, PMF Executive Director
· Albert L. Brooks, M.D., PMF President
· Ugomma Eze, CHA Program Coordinator, UCSF School of Medicine, Medical Student
· Kathryn E. Malone, M.D. PMF Vice-President
· CHA Student Interns