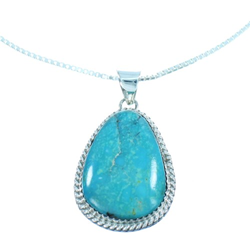 The smooth texture and beautiful blue sheen of the stone is the perfect contrast to the hot summer days.
(PRWEB) July 21, 2017
Summer is often considered a time of rejuvenation and revitalization; people want to improve their look for the upcoming events that only the summertime can present.
One store believes they have the solution to this common need to look great during the summer months. TurquoiseJewelry.com has just released a new collection of azure accessories that are sure to "Turn some heads," according to spokesman Jack Burch.
TurquoiseJewelry.com is the online leader in Southwest and Native American turquoise jewelry. Working with local artists, the company has gathered a stunning collection of eclectic styles and designs that people have been flocking to for years.
Burch added, "Summer is our favorite season, the days are warm and the nights are well-deserved respites from the heat. The reason we love the summertime is that people seem to unconsciously go to turquoise as their go-to summer style. The smooth texture and beautiful blue sheen of the stone is the perfect contrast to the hot summer days."
Many cultures consider turquoise to be a sacred stone, embodying the life-giving properties of water and the sky above, naturally due to the coloration.
TurquoiseJewelry.com has released a set of jewelry that perfectly complements the season. These lightweight pieces won't weigh people down and they are made be worn with traditional summer clothes like shorts, tops, bikinis, and everything else that we love about this time of the year.
Burch continued with, "Our collection had one goal in mind when you decided to run with this project - originality. We met with the artists we work with to create something completely new. Anyone that invests in this collection can rest assured that they are getting something no one else has-complete -uniqueness."
The new collection features turquoise bracelets, necklaces, earrings, rings, and pendants that have just been added to the store.
Anyone interested in learning more about the summer collection can visit the site and see all the jewelry the company has amassed over the years.